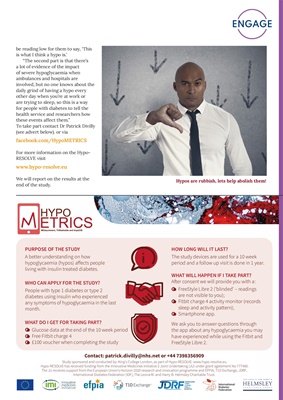 17
ENGAGE
be reading low for them to say, 'This
is what I think a hypo is.'
"The second part is that there's
a lot of evidence of the impact
of severe hypoglycaemia when
ambulances and hospitals are
involved, but no one knows about the
daily grind of having a hypo every
other day when you're at work or
are trying to sleep, so this is a way
for people with diabetes to tell the
health service and researchers how
these events affect them."
To take part contact Dr Patrick
Divilly on patrick.divilly@nhs.net.
There is also a Facebook page: www.
facebook.com/HypoMETRICS
For more information on the
Hypo-REOLVE consortium and other
research projects visit www.hyporesolve.eu
We will report on the results at
the end of the study.
PURPOSE OF THE STUDY
A better understanding on how
hypoglycaemia (hypos) affects people
living with insulin treated diabetes.
WHO CAN APPLY FOR THE STUDY?
People with type 1 diabetes or type 2
diabetes using insulin who experienced
any symptoms of hypoglycaemia in the last
month.
HOW LONG WILL IT LAST?
The study devices arepatrick.divilly@nhs.net
period and a follow up visit is done in 1 year.
Contact: patrick.divilly@nhs.net or +44 7398356909
Study sponsored and conducted by: King's College London, as part of Hypo-RESOLVE: www.hypo-resolve.eu
Hypo-RESOLVE has received funding from the Innovative Medicines Initiative 2 Joint Undertaking (JU) under grant agreement No 777460.
The JU receives support from the European Union's Horizon 2020 research and innovation programme and EFPIA, T1D Exchange, JDRF,
International Diabetes Federation (IDF), The Leona M. and Harry B. Helmsley Charitable Trust.
WHAT DO I GET FOR TAKING PART?
Glucose data at the end of the 10 week period
Free Fitbit charge 4
£100 voucher when completing the study
WHAT WILL HAPPEN IF I TAKE PART?
After consent we will provide you with a:
FreeStyle Libre 2 ('blinded' - readings
are not visible to you);
Fitbit charge 4 activity monitor (records
sleep and activity pattern);
Smartphone app.
We ask you to answer questions through
the app about any hypoglycaemia you may
have experienced while using the Fitbit and
FreeStyle Libre 2.