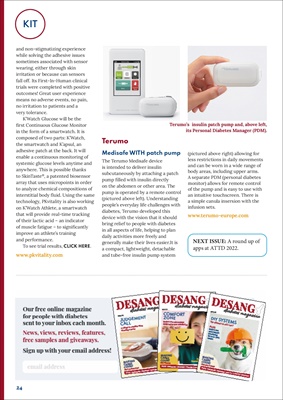 24KIT
while solving the adhesive issues
sometimes associated with sensor
wearing, either through skin
irritation or because can sensors
fall off. Its First-In-Human clinical
trials were completed with positive
outcomes! Great user experience
means no adverse events, no pain,
no irritation to patients and a
very tolerance.
K'Watch Glucose will be the
first Continuous Glucose Monitor
in the form of a smartwatch. It is
composed of two parts: K'Watch,
the smartwatch and K'apsul, an
adhesive patch at the back. It will
enable a continuous monitoring of
systemic glucose levels anytime and
anywhere. This is possible thanks
to SkinTaste®, a patented biosensor
array that uses micropoints in order
to analyze chemical compositions of
interstitial body fluid. Using the same
technology, PKvitality is also working
on K'Watch Athlete, a smartwatch
that will provide real-time tracking
of their lactic acid - an indicator
of muscle fatigue - to significantly
improve an athlete's training and
performance.
To see trial results, CLICK HERE.
Terumo
Medisafe WITH patch pump
The Terumo Medisafe device
is intended to deliver insulin
subcutaneously by attaching a patch
pump filled with insulin directly
on the abdomen or other area. The
pump is operated by a remote control
(pictured above left). Understanding
people's everyday life challenges with
diabetes, Terumo developed this
device with the vision that it should
bring relief to people with diabetes
in all aspects of life, helping to plan
daily activities more freely and
generally make their lives easier.It is
a compact, lightweight, detachable
and tube-free insulin pump system
(pictured above right) allowing for
less restrictions in daily movements
and can be worn in a wide range of
body areas, including upper arms.
A separate PDM (personal diabetes
monitor) allows for remote control
of the pump and is easy to use with
an intuitive touchscreen. There is
a simple canula insersion with the
infusion sets.
Our free online magazine
for people with diabetes
sent to your inbox each month.
News, views, reviews, features,
free samples and giveaways.
Sign up with your email address!
ISSUE 115
MAKING
CARBS
COUNT
MILK ALTERNATIVES
PLUS Diabetes kit • Giveaways • News (for T1 and T2) • Food News
JUDGEMENT
CALL
10 things to consider when
choosing a meter
PLUS
Who's Zooming who?
An update on digital
health delivery
ISSUE 111
MAKING
CARBS
COUNT
BELL PEPPERS
PLUS Diabetes kit • Giveaways • News (for T1 and T2) • Food News
COMFORT
ZONE
Roche's new micropump:
designed for user satisfaction
PLUS
Dexcom's next
generation G7 sensor ISSUE 119
MAKING
CARBS
COUNT
LUSCIOUS LYCHEES
PLUS Diabetes kit • Giveaways • News (for T1 and T2) • Food News
DIY SYSTEMS
The ultimate in self-care?
PLUS
Roche's new
meter launch:
introducing
the Accu-Chek
Instant
email address