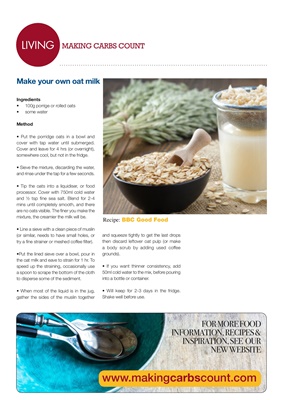 LIVINGLIVING
Make your own oat milk
MAKING CARBS COUNT
Ingredients
• 100g porrige or rolled oats
• some water
Method
• Put the porridge oats in a bowl and
cover with tap water until submerged.
Cover and leave for 4 hrs (or overnight),
somewhere cool, but not in the fridge.
• Sieve the mixture, discarding the water,
and rinse under the tap for a few seconds.
• Tip the oats into a liquidiser, or food
processor. Cover with 750ml cold water
and ½ tsp fine sea salt. Blend for 2-4
mins until completely smooth, and there
are no oats visible. The finer you make the
mixture, the creamier the milk will be.
• Line a sieve with a clean piece of muslin
(or similar, needs to have small holes, or
try a fine strainer or meshed coffee filter).
•Put the lined sieve over a bowl, pour in
the oat milk and eave to strain for 1 hr. To
speed up the straining, occasionally use
a spoon to scrape the bottom of the cloth
to disperse some of the sediment.
• When most of the liquid is in the jug,
gather the sides of the muslin together
FOR MORE FOOD
INFORMATION, RECIPES &
INSPIRATION, SEE OUR
NEW WEBSITE
Recipe: BBC Good Food
and squeeze tightly to get the last drops
then discard leftover oat pulp (or make
a body scrub by adding used coffee
grounds).
• If you want thinner consistency, add
50ml cold water to the mix, before pouring
into a bottle or container.
• Will keep for 2-3 days in the fridge.
Shake well before use.