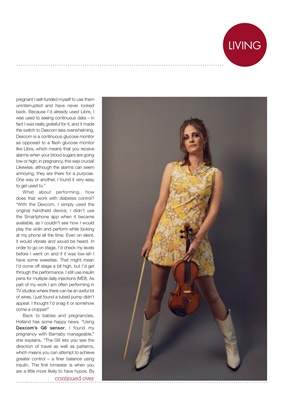 TIME IN RANGE 82%
TIME IN RANGE 76%
TIME IN RANGE 73%
TIME IN RANGE 78%
TIME IN RANGE 81%
TIME IN RANGE 71%
TIME IN RANGE 73%
TIME IN RANGE 79%
37 weeks
20 weeks
16 weeks
28 weeks
5 months
32 weeks
12 weeks
7 weeks
Conception
6.6mmol/L
6.3mmol/L
6.3mmol/L
5.2mmol/L
5.4mmol/L
6.1mmol/L
mmol/L
4.5mmol/L
6.1mmol/L
7.2
TIME IN RAN
Growing a tiny human is exhausting.
Your diabetes management doesn't need to be.
With the Dexcom G6 Continuous Glucose Monitoring (CGM) System you know where
your glucose levels are, where they're heading and how fast with just a quick glance
at your smartphone or watch.†
Customisable alerts, including a predictive Urgent Low Soon alert, can let you know
if you're heading dangerously high or low. All with zero fingersticks* or scanning.
Speak to your Diabetes Care Team about Dexcom G6
or find out more at dexcom.com/ukiemum
AT EVERY STAGE.
SUPPORTING YOU Olivia living with type 1 diabetes since 2010.
*If your glucose alerts and readings from the Dexcom G6 do not match symptoms or expectations, use a blood glucose meter to make diabetes treatment decisions. †For a list of compatible smart devices, please visit
www.dexcom.com/compatibility. Dexcom, Dexcom Follow, Dexcom Clarity and Dexcom G6 are registered trademarks of Dexcom, Inc. in the U.S., and may be registered in other countries. © 2020 Dexcom Inc. All rights
reserved. Dexcom, International, Ltd. and its affiliated European entities. 1 Tanfield, Suite 6, Level 1 Tanfield, Edinburgh EH3 5DA. LBL018758 Rev001.
Smart devices sold separately.†