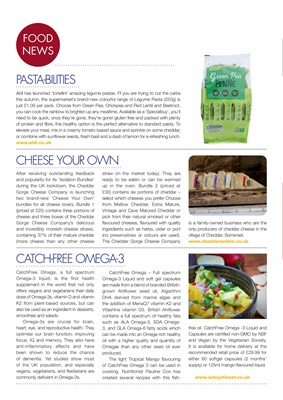 KIT
CHEESE YOUR OWN
After receiving outstanding feedback
and popularity for its 'Isolation Bundles'
during the UK lockdown, the Cheddar
Gorge Cheese Company is launching
two brand-new 'Cheese Your Own'
bundles for all cheese lovers. Bundle 1
(priced at £25) contains three portions of
cheese and three boxes of the Cheddar
Gorge Cheese Company's delicious
and incredibly moreish cheese straws,
containing 37% of their mature cheddar
(more cheese than any other cheese
Aldi Launches 'Tortellini' Amazing Legume Pastas for Just £1.09! If you are trying to cut
the carbs this autumn, supermarket Aldi has launched a brand-new colourful range of
Legume Pasta (250g) for just £1.09 per pack! Available in Green Pea, Chickpea and Red
Lentil and Beetroot, you can cook the rainbow to brighten up any mealtime! Available as
a 'Specialbuy', but, you'll need to be quick, once they're gone, they're gone! Gluten Free
and packed with plenty of protein and fibre, this healthy option is the perfect alternative to
standard pasta. To elevate your meal, mix in a creamy tomato-based sauce and sprinkle
on some cheddar, or combine with sunflower seeds, fresh basil and a dash of lemon for
a refreshing lunch. www.aldi.co.uk
PASTA-BILITIES
FOOD
NEWS
CATCH-FREE OMEGA-3
CatchFree Omega, a full spectrum
Omega-3 liquid, is the first health
supplement in the world that not only
offers vegans and vegetarians their daily
dose of Omega-3s, vitamin D and vitamin
K2 from plant-based sources, but can
also be used as an ingredient in desserts,
smoothies and salads.
Omega-3s are crucial for brain,
heart, eye, and reproductive health. They
optimise our brain function; improving
focus, IQ and memory. They also have
anti-inflammatory effects and have
been shown to reduce the chance
of dementia. Yet studies show most
of the UK population, and especially
vegans, vegetarians, and flexitarians are
commonly deficient in Omega-3s.
CatchFree Omega - Full spectrum
Omega-3 Liquid and soft gel capsules
are made from a blend of branded Britishgrown
Ahiflower seed oil, Algarithm
DHA derived from marine algae and
the addition of MenaQ7 vitamin K2 and
Vitashine vitamin D3. British Ahiflower
contains a full spectrum of healthy fats
such as ALA Omega-3, SDA Omega3, and
GLA Omega-6 fatty acids which
can be made into an Omega-rich healthy
oil with a higher quality and quantity of
Omegas than any other seed oil ever
produced.
The light Tropical Mango flavouring
of CatchFree Omega 3 can be used in
cooking. Nutritionist Pauline Cox has
created several recipes with Catch Free
Omega 3 Liquid CatchFree Omega
-3 Liquid and Capsules are certified
non-GMO by NSF and Vegan by the
Vegetarian Society. It is available for home
delivery at the recommended retail price
of £29.99 for either 60 softgel capsules
(2 months' supply) or 125ml of mangoflavoured
liquid.
straw on the market today). They are
ready to be eaten or can be warmed
up in the oven. Bundle 2 (priced at
£30) contains six portions of cheddar -
select which cheeses you prefer Choose
from Mellow Cheddar, Extra Mature,
Vintage and Cave Matured Cheddar or
pick from their natural smoked or other
flavoured cheeses, flavoured with quality
ingredients such as herbs, cider or port
(no preservatives or colours are used).
The Cheddar Gorge Cheese Company
is a family-owned business who are the
only producers of cheddar cheese in the
village of Cheddar, Somerset.