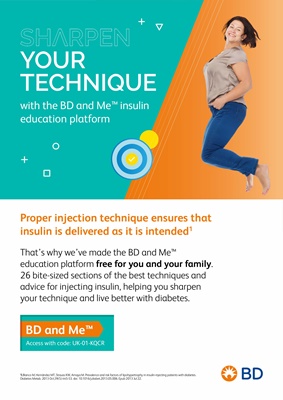 Joy S.
since 2014
Kelly R.
since 2019
Archie H.
since 2017
Marcus B.
since 2017
Hannah McCook
since 2018
*The Pod has a waterproof IP28 rating for up to 7.6 metres for up to 60 minutes. The PDM is not waterproof.
**Up to 72 hours of continuous insulin delivery.
†The sample Pod is a needle-free, non-functioning Pod that can be worn for up to 3 days.
Screen image is an example, for illustrative purposes only.
©2019 Insulet Corporation. Omnipod, the Omnipod logo, DASH, the DASH logo and Podder are trademarks or registered
trademarks of Insulet Corporation in the USA and other various jurisdictions. All rights reserved. Glooko and diasend are
trademarks of Glooko, Inc. and used with permission. All other trademarks are the property of their respective owners. The use
of third party trademarks does not constitute an endorsement or imply a relationship or other affiliation. 1 King St, Hammersmith
London W6 9HR. INS-ODS-09-2019-00001V2-Pt3
Tubeless, waterproof*
Pod that can be placed
anywhere you would give
yourself an injection
Modern, intuitive
touch-screen Personal
Diabetes Manager (PDM)
Suitable for all ages,
with adjustable settings
to personalise insulin
delivery based on your
daily routine
Speak to your Healthcare Provider to assess if the
Omnipod DASH™ System is a good option for you.
11 A simple and discreet way
to deliver insulin
Experience Freedom
with Pod Therapy
Order your Pod Experience Kit† at www.myomnipod.com
Insulet_UK MyOmnipod UK myOmnipod_uk