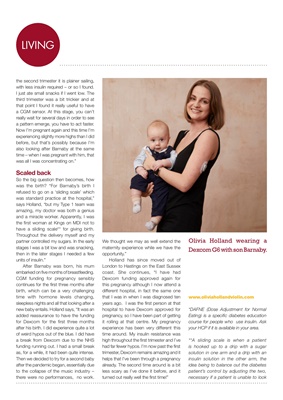 LIVINGLIVING
I
or people l If anything positive
can be said about lockdown,
it is that it gave the medical
community and those who
interact with it the necessary
sense of urgency to really get to grips
with digital ways of delivering healthcare
into the home for as many patients as
possible for whom it could be safely
achieved. Whereas many might have
been wary of moving to digital could lead
to possibly losing contact with healthcare
providers, the presence of Covid-19 has
forced us all to understand digital delivery
better and engage with it more in order
to stay well.
Once called telehealth, which now
sounds archaic, many of us have over the
years moved to calling an HCP when we
needed some help, or sending them an
email instead of trying to go and see them
in person. It's far easier if you have had
a great one-on-one relationship with your
HCP, so you're not talking to a stranger
who knows nothing of your background.
Many of us have downloaded an app
we thought might help us - perhaps with
tracking blood sugars or giving info on the
carb content of food, getting the hang of
using smartphones and tablets along the
way. More recently, you may have done a
video call with their GP or other healthcare
professional.
Personally, I've gone from the odd
FaceTime conversation with a member
of the family living overseas to doing
lockdown lunches and birthday 'parties'
FROM BOOMERS TO ZOOMERS
The baby boomer generation - people born from 1946 to 1964,
during the post -World War II baby boom - have been getting to
know digital devices and delivery (whether they liked it or not)
thanks to lockdown. By Sue Marshall
KIT
REPORT
on Zoom. I've done work meetings on
Team, Skype and whatever else is now
being used by businesses the world
over, as well as joined in some brilliantly
organised online get-togethers of pretty
big groups of my 'diabuddies' which have
been very enjoyable.
I've also been able to report on how
suppliers (including the NHS) specifically
in the diabetes sector have turned
themselves inside out to help support
people with diabetes in their homes which
has been both humbling and reassuring.
There has been a sincere push to get
people living with the condition to help
themselves from home - with 'remote'
pump starts and access to wearable
devices in general being improved in
order to allow HCPs to see patient data -
while both are in their own homes.
The following is a round-up of news
about digital diabetes tech, mainly from
the US plus UK-related towards the end.
Fast growth
You can get an app for virtually anything
now, and your watch is unlikely just to tell
you the time anymore, while other devices
are also creeping in allowing anyone who
is interested in tracking aspects of their
health, not just blood glucose levels.
In the US, but also in Europe, Fitbit
has received regulatory clearance for its
new electrocardiogram app to track heart
rhythm and flag signs of atrial fibrillation.
The regulatory nod brings Fitbit up to
speed with other manufacturers like
Omnipod president and CEO
Shacey Petrovic on the cover
of MD Tech Review which
named the insulin pump
one of it's Top 10 wearable
medical devices 2020.