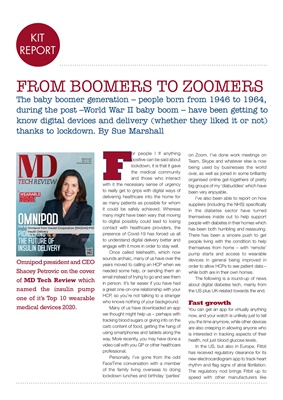 LIVINGLIVING
the eligibility criteria. Abbott's FreeStyle
Libre 2 includes a sensor worn on the
back of the upper arm for up to 14 days,
using a handheld reader over the sensor
to provide real-time glucose readings,
trend arrows and eight-hour history to
help healthcare providers and users make
informed treatment decisions. The system
also includes real-time alarms and minuteby-minute glucose measurements,
while
Abbott touts it as the longest-lasting selfapplied iCGM sensor currently
available,
eliminating the need for fingersticks and
costing a third of the price of other CGM
systems." Read the full release here:
http://bit.ly/ddb_libre2_medicare
In another report for the same
website, Whooley reveals that "Enable
Injections completed a $25m credit facility
from Oxford Finance LLC. Cincinnatibased Enable Injections said
in a news
release that the funds are earmarked for
supporting the scaling of high-volume
manufacturing and the achievement
of major inflection points as it moves
toward commercialization of it's enFuse
on-body drug delivery device. This is a
novel technology for delivering therapies
to patients outside of a clinical facility.
The on-body drug delivery platform is
designed for subcutaneous delivery of
large volumes reaching up to 50mL at the
time and place of the patients' choosing."
Meanwhile, the Omnipod System has
been named a Top 10 wearable medical
device for 2020 by American publication
MD Tech Review (read the full list HERE).
In an interview for the magazine,
Omnipod's president and CEO, Shacey
Petrovic - who also bagged the front cover
of the magazine, stated that the Omnipod
insulin pump had been designed with
the user in mind, and that the company
was aiming for a pay-as-you-go business
model by eliminating complexity and
restrictions. Read the coverage here:
Dreaming big
With healthcare systems worldwide
struggling under the demands of the
current pandemic, solutions for remote
medical care are increasingly seen as vital.
The NextDREAM Consortium, a group of
participating clinical sites including Joslin
Diabetes Center of Harvard Medical
School, has carried out a study into
the efficacy of AI technology in remote
diabetes care. The results of a multicentre,
multi-national, six-month study
were published in the medical journal,
Nature Medicine, and substantiates the
efficacy of DreaMed Diabetes' Advisor
Pro solution. This is the first time that
Nature Medicine has publishing a clinical
study that evaluates the effectiveness of
AI in medicine, marking a major milestone
for the technology as it becomes
more viable. The study concluded that
optimizing insulin pump settings with
an AI-support system, produced similar
healthcare outcomes to those achieved
by physicians with diabetes expertise.
DreaMed's Advisor Pro software provides
patients with personalized optimization of
their insulin therapy management, driven
by cloud-based technology utilizing
artificial intelligence for swift data analysis
and swift treatment. The solution paves
the way for implementing AI across
healthcare, enabling deep and accurate
analysis while freeing up doctors to treat
patients instead of data.
"This Nature Medicine publication
is an important first step toward the
implementation of AI-based decisionsupport technology as part of the
standard way we manage the insulin
therapy of people with diabetes," says
Prof. Moshe Phillip, the Director of the
Institute for Endocrinology and Diabetes
at Schneider Children's MC in Israel & the
nextDREAM Consortium Coordinator.
"With the Advisor, healthcare providers
will be able to use an easy and clinically
effective decision-support tool that will
give them more time to interact with their
patients, while making regular clinics visits
to the doctor more efficient. For people
with diabetes, it will ultimately mean 24/7
access to personalized medical advice,
a kind of 'expert diabetes physician in
your pocket,' that will bring people with
Type 1 diabetes greater balance and an
improved quality of life."
DreaMed's Advisor Pro ai,
a kind of 'expert diabetes
physician in your pocket'