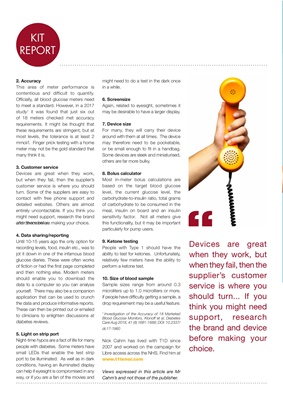 LIVINGLIVING
Abbott and A violinist by
trade, Olivia Holland
was diagnosed with
Type 1 diabetes at the
age of 17, ten years
ago. At the time, she was studying for
her A-levels whilst also auditioning for
entrance to music college. She'd been
getting very thirsty and, during her mock
exams, was drinking a 2L bottle of
water per paper. She recalls it all being
very disruptive and commenting to her
mother, 'I don't think I am well and with
my symptoms could this be Type 1
diabetes?'
She says, "I had a recital to attend on a
specific Tuesday afternoon but had made
a doctor's appointment for the morning.
He did blood stick test and told me to go
straight to hospital. I spent a few days
there and, although the diagnosis was
unexpected, it was actually great not to
be so thirsty anymore. I left hospital with a
couple of insulin pens, some Levemir and
Novo Rapid insulin, having been shown
basic carb counting. And then I went back
a week later for a follow-up appointment."
Along with the insulin and pens, she
was also given an Accu-Chek Aviva Expert
blood glucose monitor. "I remember it well.
If you inputted your blood test and your
carbs it gave a bonus recommendation
which is very helpful and avoided me
having to do all the maths myself. Later
I moved on to the Freestyle Optium Mio,
which was a bit smaller, and which I still
use now."
MY DIABETES KIT
OLIVIA HOLLANDUnfortunately, Holland was one of us
who had trouble getting the blood test
strips she used from her HCP. She says,
"I'd had a bit of an issue with the local
diabetes nurse when I lived in Peckham.
She said I couldn't have the test strips
for that meter, instead I was given a
more basic machine and my prescription
was changed. However, shortly after
that I was referred up to King's College
Hospital where I was told I was entitled
to have the machine that I preferred and,
after a little bit of a fight, I was able to
change my prescription back. I did find
it quite distressing, and I consider myself
somebody quite able to defend myself."
At Lewisham Hospital, Holland had
the opportunity to do the DAFNE* course
which teaches 'dose adjustment for
normal eating', which she says was "A
really useful tool in aiding my diabetes
management. I use the advice given to
this day. I'd thoroughly recommend the
course to anyone who is looking to further
their knowledge of carb counting and
adjusting insulin doses in order to improve
their blood glucose control."
Gifted
Also like many of us, getting a new bit
of diabetes kit is sometimes down to
the generosity of people who can afford
to buy it for them. Says Holland, "One
Christmas I was given a starter pack of
FreeStyle Libre sensors. From that point
on I had irregular use of these, due to
them being given as gifts for birthdays and
Olivia Holland performing
in concert.