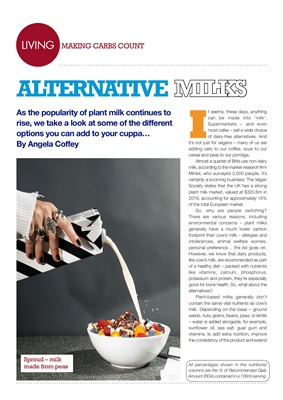 LIVINGLIVING MAKING CARBS COUNT
As the popularity of plant milk continues to
rise, we take a look at some of the different
options you can add to your cuppa…
By Angela Coffey
ALTERNATIVE MILKS
Iuper Bright, It seems, these
days, anything can be made
into 'milk'. Supermarkets - and
even most cafes - sell a wide
choice of dairy-free alternatives.
And it's not just for vegans - many of us
are adding oats to our coffee, soya to our
cereal and peas to our porridge.
Almost a quarter of Brits use non-dairy
milk, according to the market research firm
Mintel, who surveyed 2,000 people. It's
certainly a booming business: The Vegan
Society states that the UK has a strong
plant milk market, valued at $320.6m in
2019, accounting for approximately 15%
of the total European market.
So, why are people switching?
There are various reasons, including
environmental concerns - plant milks
generally have a much lower carbon
footprint than cow's milk - allergies and
intolerances, animal welfare worries,
personal preference… the list goes on.
However, we know that dairy products,
like cow's milk, are recommended as part
of a healthy diet - packed with nutrients
like vitamins, calcium, phosphorus,
potassium and protein, they're especially
good for bone health. So, what about the
alternatives?
All percentages shown in the nutritional
columns are the % of Recommended
Daily Amount (RDA) is contained in a
100ml serving.
Sproud - milk
made from peas