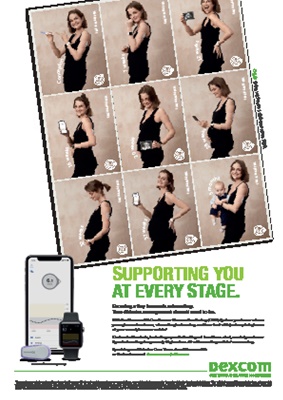 KITLIVING
"Healthcare providers
are offering
personalized care
including continuous
and remote patient
monitoring... these
medical devices can
be worn 24 hours
without affecting the
user's routine life.
Our free online magazine
for people with diabetes
sent to your inbox each month.
News, views, reviews, features,
free samples and giveaways.
Sign up with your email address!
email address
Apple and Samsung, which have offered
EKG tracking in their smartwatches
since 2018 and early August this year,
respectively. It's a key capability for the
smartwatch Fitbit Sense, which launched
in late August. The app will be available
for the watch in October in the US and
select countries in Europe and Asia.
In a news commentary by American
website FinancialBuzz.com it was noted
that, "Wearable devices have now
become one of the fastest developing
segments of the technology and medical
technology industries. Wearable devices
were designed to track real time data on
various activities of its user and can be
worn on the body with ease. Generally,
these devices include analog-watches,
smartwatches, glasses, fitness trackers
and others.
"More recently, synchronization
of such devices with smartphones
has become an evolving technology
with a numerous new features being
incorporated into the devices. This
increase of diverse applications is a
major driver for this market's growth.
Furthermore, the implementation of the
Internet of Things (IoT) that is used for
the development of new features among
smartwatches has created an essential
transformation in the watch industry.
"Medical wearables are built to track
vital signs and other health indicators,
including calorie intake, cholesterol
levels, heartbeat rate, blood pressure,
glucose levels, sleeping patterns and
more. Now, the rising occurrence of
chronic diseases, along with increasing
mortality rates, is a major area of concern
among people as well as government
organizations. Therefore, healthcare
providers are offering personalized care
including continuous and remote patient
monitoring. These medical devices can be
worn 24 hours without affecting the user's
routine life."
Companies involved in this area
include Nemaura Medical, Abbott
Laboratories, Medtronic, and Tandem
Diabetes Care. Read the full report here:
Reimbursement in US
In the US, Abbott has won Medicare
reimbursement for FreeStyle Libre 2.
As reported by Sean Whooley for Drug
Delivery Business, "The integrated
continuous glucose monitoring (iCGM)
system met the codes for therapeutic
CGM systems used for coverage by the
US Centers for Medicare & Medicaid
Services (CMS), making it accessible to all
Medicare patients with diabetes who meet continued over