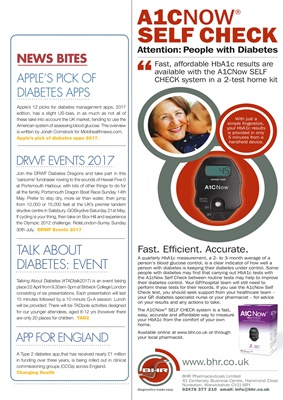 DRWF EVENTS 2017
BHR Pharmaceuticals Limited
41 Centenary Business Centre, Hammond Close
Nuneaton, Warwickshire CV11 6RY
02476 377 210 email: info@bhr.co.uk
A1CNOW®
SELF CHECK
Attention: People with Diabetes
Fast, affordable HbA1c results are
available with the A1CNow SELF
CHECK system in a 2-test home kit
Fast. Effi cient. Accurate.
A quarterly HbA1c measurement, a 2- to 3-month average of a
person's blood glucose control, is a clear indicator of how well a
person with diabetes is keeping their diabetes under control. Some
people with diabetes may fi nd that carrying out HbA1c tests with
the A1cNow Self Check between routine tests may help to improve
their diabetes control. Your GP/hospital team will still need to
perform these tests for their records. If you use the A1cNow Self
Check test, you should seek support from your healthcare team -
your GP, diabetes specialist nurse or your pharmacist - for advice
on your results and any actions to take.
The A1CNow® SELF CHECK system is a fast,
easy, accurate and affordable way to measure
your HbA1c from the comfort of your own
home.
Available online at www.bhr.co.uk or through
your local pharmacist.
With just a
simple fi ngerstick,
your HbA1c results
is provided in only
5 minutes from a
handheld device.
Join the DRWF Diabetes Dragons and take part in this
'oarsome' fundraiser rowing to the sounds of Hawaii
Five-0 at Portsmouth Harbour, with lots of other things
to do for all the family. Portsmouth Dragon Boat Race
Sunday 14th May. Prefer to stay dry, more air than water,
then jump from 10,000 or 15,000 feet at the UK's premier
tandem skydive centre in Salisbury. GOSkydive Saturday
21st May. If cycling is your thing, then take on Box Hill
and experience the Olympic 2012 challenge. RideLondonSurrey
Sunday 30th July.
TALK ABOUT
DIABETES EVENT
Talking About Diabetes (#TADtalk2017) is an event taking
place 22 April from 9.30am-3pm at Birbeck College
London consisting of six presentations. Each presentation
will last 15 minutes followed by a 10 minute Q+A session.
Lunch will be provided. There will be TADpole activities
designed for our younger attendees, aged 8-12 yrs
(however there are only 20 places for children.
For an update on what Diabetes UK Type 1 events are on
offer this year, from quests and adventures to weekenders
and away days, for ages 8-11, 11-15, and 16-18.
GET INVOLVED
CONTINUITY OF CARE
Older patients seeing same GP each time 'key to reducing
hospital admissions'. Article by Alice Ross in The Guardian.
http://bit.ly/theguardian_aliceross
APP ACROSS ENGLAND
A Type 2 diabetes app,that has received nearly £1 million
in funding over three years, is being rolled out in clinical
commissioning groups (CCGs) across England.