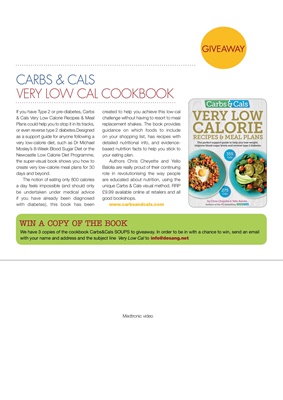 CARBS & CALS VERY LOW CAL COOKBOOK
If you have Type 2 or pre-diabetes, Carbs
& Cals Very Low Calorie Recipes & Meal
Plans could help you to stop it in its tracks,
or even reverse type 2 diabetes.Designed
as a support guide for anyone following a
very low-calorie diet, such as Dr Michael
Mosley's 8-Week Blood Sugar Diet or the
Newcastle Low Calorie Diet Programme,
the super-visual book shows you how to
create very low-calorie meal plans for 30
days and beyond.
The notion of eating only 800 calories
a day feels impossible (and should only
be undertaken under medical advice
if you have already been diagnosed
with diabetes), this book has been
created to help you achieve this low-cal
challenge without having to resort to meal
replacement shakes. The book provides
guidance on which foods to include
on your shopping list, has recipes with
detailed nutritional info, and evidencebased nutrition facts to help you
stick to
your eating plan.
Authors Chris Cheyette and Yello
Balolia are really proud of their continuing
We have 3 copies of the cookbook
Carbs&Cals SOUPS to giveaway. In
order to be in with a chance to win,
send an email with your name and
address and the subject line Very Low
Cal to info@desang.net
WIN A COPY
OF THE BOOK
GIVEAWAY
role in revolutionising the way people
are educated about nutrition, using the
unique Carbs & Cals visual method. RRP
£9.99 available online at retailers and all
good bookshops.
Medtronic video