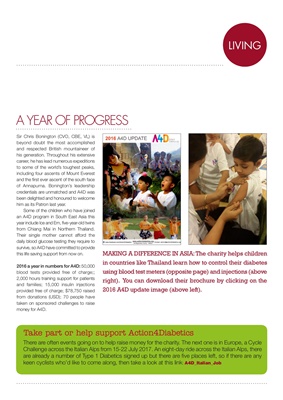 KITLIVING
Sir Chris Bonington (CVO, CBE, VL) is
beyond doubt most accomplished and
respected British mountaineer of his
generation. Throughout his extensive
career, he has lead numerous expeditions
to some of the world's toughest peaks,
including four ascents of Mount Everest
and the first ever ascent of the south face
of Annapurna. Bonington's leadership
credentials are unmatched and A4D was
been delighted and honoured to welcome
him as its Patron last year.
Some of the children who have joined
an A4D program in South East Asia this
year include Ice and Ern, five-year-old twins
from Chiang Mai in Northern Thailand.
Their single mother cannot afford the
daily blood glucose testing they require to
survive, so A4D have committed to provide
this life saving support from now on.
2016 a year in numbers for A4D: 50,000
blood tests provided free of charge;;
2,000 hours training support for patients
and families; 15,000 insulin injections
provided free of charge; $78,750 raised
from donations (USD); 70 people have
taken on sponsored challenges to raise
money for A4D.
Take part or help support Action4Diabetics
There are often events going on to help raise money for the charity. The next one is in Europe, a Cycle
Challenge across the Italian Alps from 15-22 July 2017. An 8-day ride across the Italian Alps, there are
already a number of Type 1 Diabetics signed up but there are five places left, so if there are any keen
cyclists who'd like to come along, then take a look at this link: http://bit.ly/a4d_italian_cycleride
MAKING A DIFFERENCE IN ASIA: The charity helps thse
children in Thailand learn how to control their diabetes.
A YEAR OF
PROGRESS