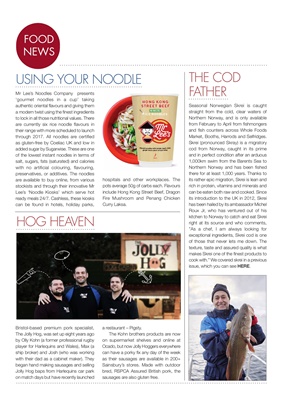 LIVINGLIVING
FOOD
NEWS
USING YOUR NOODLE THE COD
FATHER
HOG HEAVEN
Mr Lee's Noodles Company presents
'gourmet noodles in a cup' taking
authentic oriental flavours and giving them
a modern twist using the finest ingredients
to lock in all those nutritional values. There
are currently six rice noodle flavours in
their range with more scheduled to launch
through 2017. All noodles are certified
as gluten-free by Coeliac UK and low in
added sugar by Sugarwise. These are one
of the lowest instant noodles in terms of
salt, sugars, fats (saturated) and calories
with no artificial colouring, flavouring,
preservatives, or additives. The noodles
are available to buy online, from various
stockists and through their innovative Mr
Lee's 'Noodle Kiosks' which serve hot
ready meals 24/7. Cashless, these kiosks
can be found in hotels, holiday parks,
Bristol-based premium pork specialist,
The Jolly Hog, was set up eight years ago
by Olly Kohn (a former professional rugby
player for Harlequins and Wales), Max (a
ship broker) and Josh (who was working
with their dad as a cabinet maker). They
began hand making sausages and selling
Jolly Hog baps from Harlequins car park
on match days but have recently launched
a restaurant - Pigsty.
The Kohn brothers products are now
on supermarket shelves and online at
Ocado, but now Jolly Hoggers everywhere
can have a porky fix any day of the week
as their sausages are available in 200+
Sainsbury's stores. Made with outdoor
bred, RSPCA Assured British pork, the
sausages are also gluten free.
hospitals and other workplaces. The
pots average 50g of carbs each. Flavours
include Hong Kong Street Beef, Dragon
Fire Mushroom and Penang Chicken
Curry Laksa.
Seasonal Norwegian Skrei is caught
straight from the cold, clear waters of
Northern Norway, and is only available
from February to April from fishmongers
and fish counters across Whole Foods
Market, Booths, Harrods and Selfridges.
Skrei (pronounced Skray) is a migratory
cod from Norway, caught in its prime
and in perfect condition after an arduous
1,000km swim from the Barents Sea to
Northern Norway and has been fished
there for at least 1,000 years. Thanks to
its rather epic migration, Skrei is lean and
rich in protein, vitamins and minerals and
can be eaten both raw and cooked. Since
its introduction to the UK in 2012, Skrei
has been hailed by its ambassador Michel
Roux Jr, who has ventured out of his
kitchen to Norway to catch and eat Skrei
right at its source and who comments,
"As a chef, I am always looking for
exceptional ingredients, Skrei cod is one
of those that never lets me down. The
texture, taste and assured quality is what
makes Skrei one of the finest products to
cook with." We covered skrei in a previous
issue, which you can see HERE.