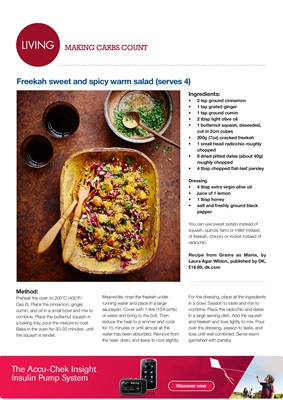 LIVINGLIVING
Freekah sweet and spicy warm salad (serves 4)
Ingredients:
• 2 tsp ground cinnamon
• 1 tsp grated ginger
• 1 tsp ground cumin
• 2 tbsp light olive oil
• 1 butternut squash, deseeded,
cut in 2cm cubes
• 200g (7oz) cracked freekeh
• 1 small head radicchio roughly
chopped
• 8 dried pitted dates (about 40g)
roughly chopped
• 4 tbsp chopped flat-leaf parsley
•
• Dressing
• 4 tbsp extra virgin olive oil
• juice of 1 lemon
• 1 tbsp honey
• salt and freshly ground black
pepper
You can use sweet potato instead of
squash, quinoa, faro or millet instead
of freekah, chicory or rocket instead of
radicchio.
Recipe from Grains as Mains, by
Laura Agar Wilson, published by DK,
£16.99, dk.com
MAKING CARBS COUNT
Method:
. Preheat the oven to 200°C (400°F/
Gas 6). Place the cinnamon, ginger,
cumin, and oil in a small bowl and mix to
combine. Place the butternut squash in
a baking tray, pour the mixture to coat.
Bake in the oven for 30-35 minutes until
the squash is tender.
Meanwhile, rinse the freekeh under
running water and place in a large
saucepan. Cover with 1 litre (13⁄4 pints)
of water and bring to the boil. Then
reduce the heat to a simmer and cook
for 15 minutes or until almost all the
water has been absorbed. Remove from
the heat, drain any remaining water, and
leave to cool slightly.
For the dressing, place all the ingredients
in a bowl. Season to taste and mix to
combine. Place the radicchio and dates
in a large serving dish. Add the squash
and freekeh and toss lightly to mix. Pour
over the dressing, season to taste, and
toss until well combined. Serve warm
garnished with parsley.