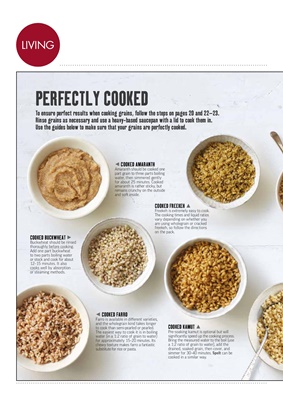 LIVINGLIVING
012-017_Grain_Store.indd 16 16/10/2014 14:31
PERFECTLY COOKED
To ensure perfect results when cooking grains, follow the steps on pages 20 and 22-23.
Rinse grains as necessary and use a heavy-based saucepan with a lid to cook them in.
Use the guides below to make sure that your grains are perfectly cooked.
◀ COOKED AMARANTH
Amaranth should be cooked one
part grain to three parts boiling
water, then simmered gently
for about 25 minutes. Cooked
amaranth is rather sticky, but
remains crunchy on the outside
and soft inside.
COOKED BUCKWHEAT ▶
Buckwheat should be rinsed
thoroughly before cooking.
Add one part buckwheat
to two parts boiling water
or stock and cook for about
12-15 minutes. It also
cooks well by absorption
or steaming methods.
COOKED FREEKEH ▲
Freekeh is extremely easy to cook.
The cooking times and liquid ratios
vary depending on whether you
are using wholegrain or cracked
freekeh, so follow the directions
on the pack.
◀ COOKED FARRO
Farro is available in different varieties,
and the wholegrain kind takes longer
to cook than semi-pearled or pearled.
The easiest way to cook it is in boiling
water (in a 1:2 ratio of grain to water)
for approximately 15-20 minutes. Its
chewy texture makes farro a fantastic
substitute for rice or pasta.
COOKED KAMUT ▲
Pre-soaking kamut is optional but will
significantly speed up the cooking process.
Bring the measured water to the boil (use
a 1:2 ratio of grain to water), add the
drained, soaked grain, then cover, and
simmer for 30-40 minutes. Spelt can be
cooked in a similar way.
012-017_Grain_Store.indd 16 15/10/2014 15:17