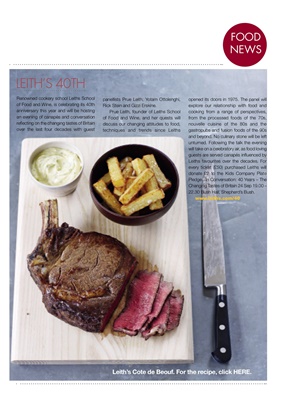 FOOD
NEWS
Renowned cookery school Leiths School
of Food and Wine, is celebrating its 40th
anniversary this year and will be hosting
an evening of canapés and conversation
reflecting on the changing tastes of Britain
over the last four decades with guest
LEITH'S 40TH
panellists Prue Leith, Yotam Ottolenghi,
Rick Stein and Gizzi Erskine.
Prue Leith, founder of Leiths School
of Food and Wine, and her quests will
discuss our changing attitudes to food,
techniques and trends since Leiths
opened its doors in 1975. The panel will
explore our relationship with food and
cooking from a range of perspectives,
from the processed foods of the 70s,
nouvelle cuisine of the 80s and the
gastropubs and fusion foods of the 90s
and beyond. No culinary stone will be left
unturned. Following the talk the evening
will take on a celebratory air, as food loving
guests are served canapés influenced by
Leiths favourites over the decades. For
every ticket (£50) purchased Leiths will
donate £2 to the Kids Company Plate
Pledge. In Conversation: 40 Years - The
Changing Tastes of Britain 24 Sep 19.00 -
22.30 Bush Hall, Shepherd's Bush.
Leith's Cote de beouf. For the recipe, click HERE.