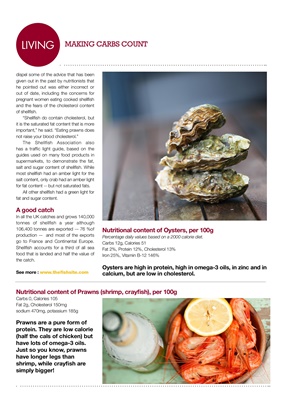 LIVINGLIVING MAKING CARBS COUNT
dispel some of the advice that has been
given out in the past by nutritionists that
he pointed out was either incorrect or
out of date, including the concerns for
pregnant women eating cooked shellfish
and the fears of the cholesterol content
of shellfish.
"Shellfish do contain cholesterol, but
it is the saturated fat content that is more
important," he said. "Eating prawns does
not raise your blood cholesterol."
The Shellfish Association also
has a traffic light guide, based on the
guides used on many food products in
supermarkets, to demonstrate the fat,
salt and sugar content of shellfish. While
most shellfish had an amber light for the
salt content, only crab had an amber light
for fat content -- but not saturated fats.
All other shellfish had a green light for
fat and sugar content.
A good catch
In all the UK catches and grows 140,000
tonnes of shellfish a year although
106,400 tonnes are exported -- 76 %of
production -- and most of the exports
go to France and Continental Europe.
Shellfish accounts for a third of all sea
food that is landed and half the value of
the catch.
See more : www.thefishsite.com
Nutritional content of Oysters, per 100g
Percentage daily values based on a 2000 calorie diet.
Carbs 12g, Calories 51
Fat 2%, Protein 12%, Cholesterol 13%
Iron 25%, Vitamin B-12 146%
Oysters are high in protein, high in omega-3 oils, in zinc and in
calcium, but are low in cholesterol.
Nutritional content of Prawns (shrimp, crayfish), per 100g
Carbs 0, Calories 105
Fat 2g, Cholesterol 150mg
sodium 470mg, potassium 185g
Prawns are a pure form of
protein. They are low calorie
(half the cals of chicken) but
have lots of omega-3 oils.
Just so you know, prawns
have longer legs than
shrimp, while crayfish are
simply bigger!