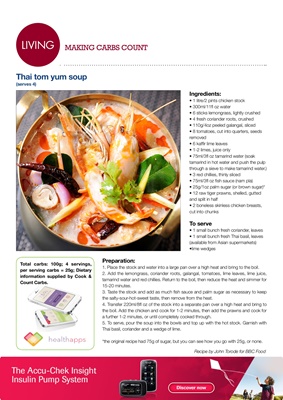 LIVINGLIVING
Thai tom yum soup
(serves 4)
Ingredients:
• 1 litre/2 pints chicken stock
• 300ml/11fl oz water
• 6 sticks lemongrass, lightly crushed
• 4 fresh coriander roots, crushed
• 110g/4oz peeled galangal, sliced
• 8 tomatoes, cut into quarters, seeds
removed
• 6 kaffir lime leaves
• 1-2 limes, juice only
• 75ml/3fl oz tamarind water (soak
tamarind in hot water and push the pulp
through a sieve to make tamarind water.)
• 3 red chillies, thinly sliced
• 75ml/3fl oz fish sauce (nam pla)
• 25g/1oz palm sugar (or brown sugar)*
• 12 raw tiger prawns, shelled, gutted
and split in half
• 2 boneless skinless chicken breasts,
cut into chunks
To serve
• 1 small bunch fresh coriander, leaves
• 1 small bunch fresh Thai basil, leaves
(available from Asian supermarkets)
•lime wedges
MAKING CARBS COUNT
Preparation:
1. Place the stock and water into a large pan over a high heat and bring to the boil.
2. Add the lemongrass, coriander roots, galangal, tomatoes, lime leaves, lime juice,
tamarind water and red chillies. Return to the boil, then reduce the heat and simmer for
15-20 minutes.
3. Taste the stock and add as much fish sauce and palm sugar as necessary to keep
the salty-sour-hot-sweet taste, then remove from the heat.
4. Transfer 220ml/8fl oz of the stock into a separate pan over a high heat and bring to
the boil. Add the chicken and cook for 1-2 minutes, then add the prawns and cook for
a further 1-2 minutes, or until completely cooked through.
5. To serve, pour the soup into the bowls and top up with the hot stock. Garnish with
Thai basil, coriander and a wedge of lime.
*the original recipe had 75g of sugar, but you can see how you go with 25g, or none.
Total carbs: 100g; 4 servings,
per serving carbs = 25g; carbs
per 100g: 4g. Dietary information
supplied by Cook & Count Carbs
Recipe by John Torode for BBC Food