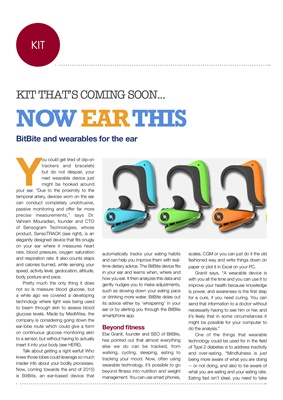 KIT
KIT THAT'S COMING SOON...
NOW EAR THIS
Y
ou could get tired of clip-on
trackers and bracelets?
Your next wearable device
just might be hooked
around your ear. "Due to the
proximity to the temporal artery, devices
worn on the ear can conduct completely
unobtrusive, passive monitoring devices
worn on the ear can conduct completely
unobtrusive, passive monitoring and offer
far more precise measurements," says Dr.
Vahram Mouradian, founder and CTO of
Sensogram Technologies, whose
SensoTRACK is an elegantly designed
device that fits snugly on your ear where
it measures heart rate, blood pressure,
oxygen saturation and respiration rate. It
also counts steps and calories burned,
while sensing your speed, activity level,
geolocation, altitude, body posture and
pace.
Pretty much the only thing is does
not so is measure blood glucose, but
a while ago we covered a developing
technology where light was being used
to beam through skin to assess blood
glucose levels. Made by MediWise, the
company is considering going down the
ear-lobe route which could give a form
on continuous glucose monitoring akin
to a sensor, but without having to actually
insert it into your body.
Talk about getting a right earful! Who
knew those lobes could leverage so much
insider info about your bodily processes.
Now, coming towards the end of 2015)
BitBite and wearables for the ear
is BitBite, an ear-based device that
automatically tracks your eating habits
and can help you improve them with realtime dietary
advice. The BitBite device fits
in your ear and learns when, where and
how you eat. It then analyzes this data and
gently nudges you to make adjustments,
such as slowing down your eating pace
or drinking more water. BitBite doles out
its advice either by 'whispering' in your
ear or by alerting you through the BitBite
smartphone app.
Beyond fitness
Etai Granit, founder and SEO of BitBite,
has pointed out that almost everything
else we do can be tracked, from
walking, cycling, sleeping, eating to
tracking your mood. Now, often using
wearable technology, it's possible to go
beyond fitness into nutrition and weight
management. You can use smart phones,
scales, CGM or you can just do it the old
fashioned way and to write things down
on paper or plot it in Excel on your PC.
Granit says, "A wearable device is
with you all the time and you can use it to
improve your health because knowledge
is power, and awareness is the first step
for a cure, if you need curing. You can
send that information to a doctor without
necessarily having to see him or her, and
it's likely that in some circumstances it
might be possible for your computer to
do the analysis."
One of the things that wearable
technology could be used for in the field
of Type 2 diabetes is to address inactivity
and over-eating. "Mindfulness is just
being more aware of what you are doing
-- or not doing, and also to be aware of
what you are eating and your eating rate.