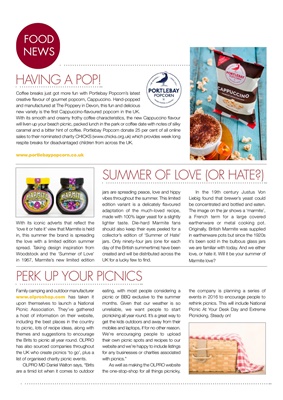 LIVINGLIVING
FOOD
NEWS
HAVING A POP!SUMMER OF LOVE (OR HATE?)
PERK UP YOUR PICNICS
Coffee breaks just got more fun with Portlebay Popcorn's latest
creative flavour of gourmet popcorn, Cappuccino. Hand-popped
and manufactured at The Poppery in Devon, this fun and delicious
new variety is the first Cappuccino-flavoured popcorn in the UK.
With its smooth and creamy frothy coffee characteristics, the new Cappuccino flavour
will liven up your beach picnic, packed lunch in the park or coffee date with notes of silky
caramel and a bitter hint of coffee. Portlebay Popcorn donate 25 per cent of all online
sales to their nominated charity CHICKS (www.chicks.org.uk) which provides week long
respite breaks for disadvantaged children from across the UK.
With its iconic adverts that reflect the
'love it or hate it' view that Marmite is held
in, this summer the brand is spreading
the love with a limited edition summer
spread. Taking design inspiration from
Woodstock and the 'Summer of Love'
in 1967, Marmite's new limited edition
jars are spreading peace, love and hippy
vibes throughout the summer. This limited
edition variant is a delicately flavoured
adaptation of the much-loved recipe,
made with 100% lager yeast for a slightly
lighter taste. Die-hard Marmite fans
should also keep their eyes peeled for a
collector's edition of 'Summer of Hate'
jars. Only ninety-four jars (one for each
day of the British summertime) have been
created and will be distributed across the
UK for a lucky few to find.
In the 19th century Justus Von
Liebig found that brewer's yeast could
be concentrated and bottled and eaten.
The image on the jar shows a 'marmite',
a French term for a large covered
earthenware or metal cooking pot.
Originally, British Marmite was supplied
in earthenware pots but since the 1920s
it's been sold in the bulbous glass jars
we are familiar with today. And we either
love, or hate it. Will it be your summer of
Marmite love?
Family camping and outdoor manufacturer
www.olproshop.com has taken it
upon themselves to launch a National
Picnic Association. They've gathered
a host of information on their website,
including the best places in the country
to picnic, lots of recipe ideas, along with
themes and suggestions to encourage
the Brits to picnic all year round. OLPRO
has also sourced companies throughout
the UK who create picnics 'to go', plus a
list of organised charity picnic events.
OLPRO MD Daniel Walton says, "Brits
are a timid lot when it comes to outdoor
eating, with most people considering a
picnic or BBQ exclusive to the summer
months. Given that our weather is so
unreliable, we want people to start
picnicking all year round. It's a great way to
get the kids outdoors and away from their
mobiles and laptops, if for no other reason.
We're encouraging people to upload
their own picnic spots and recipes to our
website and we're happy to include listings
for any businesses or charities associated
with picnics."
As well as making the OLPRO website
the one-stop-shop for all things picnicky,
the company is planning a series of
events in 2016 to encourage people to
rethink picnics. This will include National
Picnic At Your Desk Day and Extreme
Picnicking. Steady on!