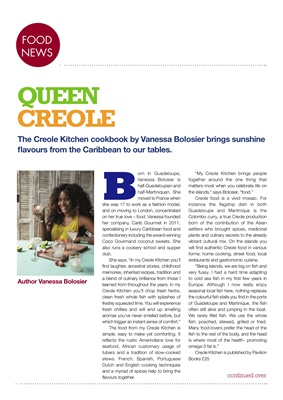 LIVINGLIVINGFOOD
NEWS
Born in Guadeloupe,
Vanessa Bolosier is
half-Guadeloupian and
half-Martiniquan. She
moved to France when
she was 17 to work as a fashion model,
and on moving to London, concentrated
on her true love - food. Vanessa founded
her company, Carib Gourmet in 2011,
specialising in luxury Caribbean food and
confectionery including the award-winning
Coco Gourmand coconut sweets. She
also runs a cookery school and supper
club.
She says, "In my Creole Kitchen you'll
find laughter, ancestral stories, childhood
memories, inherited recipes, tradition and
a blend of culinary brilliance from those I
learned from throughout the years. In my
Creole Kitchen you'll chop fresh herbs,
clean fresh whole fish with splashes of
freshly squeezed lime. You will experience
fresh chillies and will end up smelling
aromas you've never smelled before, but
which trigger an instant sense of comfort."
The food from my Creole Kitchen is
simple, easy to make yet comforting. It
reflects the rustic Amerindians love for
seafood, African customary usage of
tubers and a tradition of slow-cooked
stews. French, Spanish, Portuguese
Dutch and English cooking techniques
and a myriad of spices help to bring the
flavours together.
The Creole Kitchen cookbook by Vanessa Bolosier brings sunshine
flavours from the Caribbean to our tables.
QUEEN
CREOLE
"My Creole Kitchen brings people
together around the one thing that
matters most when you celebrate life on
the islands," says Bolosier, "food."
Creole food is a vivid mosaic. For
instance the flagship dish in both
Guadeloupe and Martinique is the
Colombo curry, a true Creole production
born of the contribution of the Asian
settlers who brought spices, medicinal
plants and culinary secrets to the already
vibrant cultural mix. On the islands you
will find authentic Creole food in various
forms: home cooking, street food, local
restaurants and gastronomic cuisine.
"Being islands, we are big on fish and
very fussy. I had a hard time adapting
to cold sea fish in my first few years in
Europe. Although I now really enjoy
seasonal local fish here, nothing replaces
the colourful fish stalls you find in the ports
of Guadeloupe and Martinique, the fish
often still alive and jumping in the boat.
We rarely fillet fish. We use the whole
fish: poached, stewed, grilled or fried.
Many food-lovers prefer the head of the
fish to the rest of the body, and the head
is where most of the health- promoting
omega-3 fat is."
Creole Kitchen is published by Pavilion
Books £25
continued over
Author Vanessa Bolosier