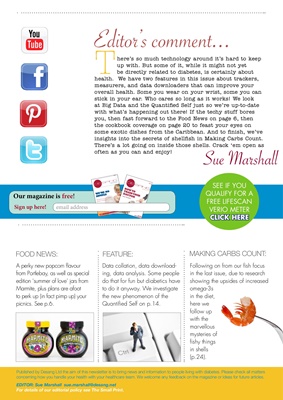 Published by Desang Ltd the aim of this newsletter is to bring news and information to people living with diabetes. Please check all matters
concerning how you handle your health with your healthcare team. We welcome any feedback on the magazine or ideas for future articles.
EDITOR: Sue Marshall sue.marshall@desang.netshall" target="_blank" title="Visit sue.marshall">sue.marshall@desang.net
For details of our editorial policy see The Small Print.
Data collation, data downloading, data analysis. Some people
do that for fun but diabetics have
to do it anyway. We investigate
the new phenomenon of the
Quantified Self on p.9. Sue Marshall
FOOD NEWS:
A perky new popcorn flavour from
Portlebay, as well as special edition 'summer of love' jars from Marmite,
plus plans are afoot to perk
up (in fact pimp up) your picnics.
See p.12.
Itry hEditor's comment...
ISSUE 30
MAGAZINE
DESANG
PLUS • New Products • Groovy giveaways • News (for T1 and T2)
WE'RE NO
ANGELS
But business as usual is best for
diabetics at Christmas
MAKING
CARBS COUNT:
CHESTNUTS ROASTING
ON OPEN FIRES
Our magazine is free!
Sign up here! email address
FEATURE:
Following on from our fish focus
in the last issue, due to research
showing the upsides of increased
omega-3s
in the diet,
here we
follow up
with the
marvellous
mysteries of
fishy things
in shells
(p.14).
MAKING CARBS COUNT:
SEE IF YOU
QUALIFY FOR A
FREE LIFESCAN
VERIO METER
CLICK HERE