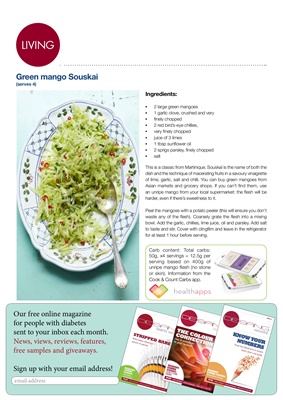 LIVINGLIVING
Carb content: Total carbs:
50g, x4 servings = 12.5g per
serving based on 400g of
unripe mango flesh (no stone
or skin). Information from the
Cook & Count Carbs app.
Green mango Souskai
(serves 4)
Ingredients:
• 2 large green mangoes
• 1 garlic clove, crushed and very
• finely chopped
• 2 red bird's-eye chillies,
• very finely chopped
• juice of 3 limes
• 1 tbsp sunflower oil
• 2 sprigs parsley, finely chopped
• salt
This is a classic from Martinique. Souskaï is the name of both the
dish and the technique of macerating fruits in a savoury vinaigrette
of lime, garlic, salt and chilli. You can buy green mangoes from
Asian markets and grocery shops. If you can't find them, use
an unripe mango from your local supermarket: the flesh will be
harder, even if there's sweetness to it.
Peel the mangoes with a potato peeler (this will ensure you don't
waste any of the flesh). Coarsely grate the flesh into a mixing
bowl. Add the garlic, chillies, lime juice, oil and parsley. Add salt
to taste and stir. Cover with clingfilm and leave in the refrigerator
for at least 1 hour before serving.
Our free online magazine
for people with diabetes
sent to your inbox each month.
News, views, reviews, features,
free samples and giveaways.
Sign up with your email address!
email address