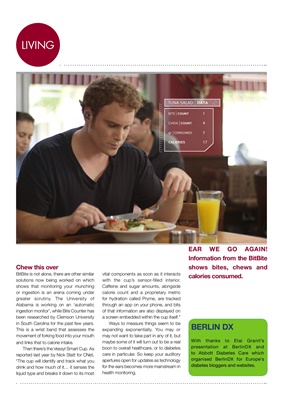 LIVINGLIVING
Chew this over
BitBite is not alone, there are other similar
solutions now being worked in which
shows that monitoring your munching
or ingestion is an arena coming under
greater scrutiny. The University of
Alabama is working on an 'automatic
ingestion monitor', while Bite Counter has
been researched by Clemson University
in South Carolina for the past few years.
This is a wrist band that assesses the
movement of forking food into your mouth
and links that to calorie intake.
Then there's the Vessyl Smart Cup. As
reported last year by Nick Statt for CNet,
"The cup will identify and track what you
drink and how much of it… it senses the
liquid type and breaks it down to its most
vital components as soon as it interacts
with the cup's sensor-filled interior.
Caffeine and sugar amounts, alongside
calorie count and a proprietary metric
for hydration called Pryme, are tracked
through an app on your phone, and bits
of that information are also displayed on
a screen embedded within the cup itself."
Ways to measure things seem to be
expanding exponentially. You may or
may not want to take part in any of it, but
maybe some of it will turn out to be a real
boon to overall healthcare, or to diabetes
care in particularly. So keep your auditory
apertures open for updates as technology
for the ears becomes more mainstream in
health monitoring.
EAR WE GO AGAIN!
Information from the BitBite
shows bites, chews and
calories consumed.
BERLIN DX
With thanks to Etai Granit's
presentation at BerlinDX and to Abbott
Diabetes Care which organised
BerlinDX for Europe's bloggers and
diabetes websites.