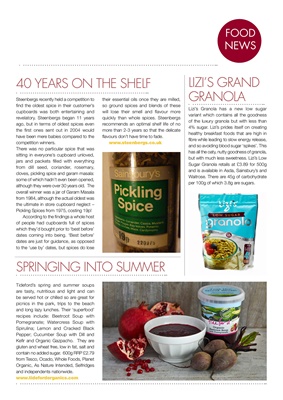 FOOD
NEWS
Lizi's Granola has a new low sugar
variant which contains all the goodness
of the luxury granola but with less than
4% sugar. Lizi's prides itself on creating
healthy breakfast foods that are high in
fibre while leading to slow energy release,
and so avoiding blood sugar 'spikes'. This
has all the oaty, nutty goodness of granola,
but with much less sweetness. Lizi's Low
Sugar Granola retails at £3.89 for 500g
and is available in Asda, Sainsbury's and
Waitrose. There are 45g of carbohydrate
per 100g of which 3.8g are sugars.
LIZI'S GRAND
GRANOLA
Tideford's spring and summer soups
are tasty, nutritious and light and can
be served hot or chilled so are great for
picnics in the park, trips to the beach
and long lazy lunches. Their 'superfood'
recipes include: Beetroot Soup with
Pomegranate; Watercress Soup with
Spirulina; Lemon and Cracked Black
Pepper; Cucumber Soup with Dill and
Kefir and Organic Gazpacho. They are
gluten and wheat free, low in fat, salt and
contain no added sugar. 600g RRP £2.79
from Tesco, Ocado, Whole Foods, Planet
Organic, As Nature Intended, Selfridges
and independents nationwide.
SPRINGING INTO SUMMER
Steenbergs recently held a competition to
find the oldest spice in their customer's
cupboards was both entertaining and
revelatory. Steenbergs began 11 years
ago, but in terms of oldest spices even
the first ones sent out in 2004 would
have been mere babies compared to the
competition winners.
There was no particular spice that was
sitting in everyone's cupboard unloved,
jars and packets filled with everything
from dill seed, coriander, rosemary,
cloves, pickling spice and garam masala:
some of which hadn't even been opened,
although they were over 30 years old. The
overall winner was a jar of Garam Masala
from 1984, although the actual oldest was
the ultimate in store cupboard neglect -
Pickling Spices from 1975, costing 19p!
According to the findings a while host
of people had cupboards full of spices
which they'd bought prior to 'best before'
dates came into being. 'Best before'
dates are just for guidance, as opposed
to the 'use by' dates but spices do lose
their essential oils once they are milled,
so ground spices and blends of these will
lose their smell and flavour much more
quickly than whole spices. Steenbergs
recommends an optimal shelf life of no
more than 2-3 years so that the delicate
flavours don't have time to fade.
40 YEARS ON THE SHELF