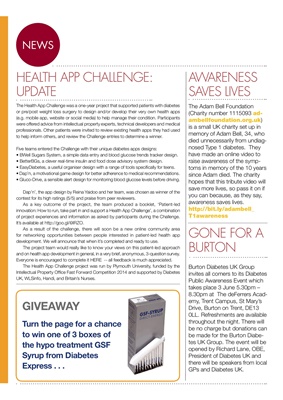 NEWS
AWARENESS
SAVES LIVES
GONE FOR A
BURTON
The Adam Bell Foundation
(Charity number 1115093 adambellfoundation.org.uk)
is a small UK charity set up in
memory of Adam Bell, 34, who
died unnecessarily from undiagnosed Type
1 diabetes. They
have made an online video to
raise awareness of the symptoms in memory of the 10 years
since Adam died. The charity
hopes that this tribute video will
save more lives, so pass it on if
you can because, as they say,
awareness saves lives.
T1awareness
Burton Diabetes UK Group
invites all comers to its Diabetes
Public Awareness Event which
takes place 3 June 5.30pm -
8.30pm at The deFerrers Academy,
Trent Campus, St Mary's
Drive, Burton on Trent, DE13
0LL. Refreshments are available
throughout the night. There will
be no charge but donations can
be made for the Burton Diabetes UK Group.
The event will be
opened by Richard Lane, OBE,
President of Diabetes UK and
there will be speakers from local
GPs and Diabetes UK.
The Health App Challenge was a one-year project that supported patients with diabetes
or pre/post weight loss surgery to design and/or develop their very own health apps
(e.g. mobile app, website or social media) to help manage their condition. Participants
were offered advice from intellectual property experts, technical developers and medical
professionals. Other patients were invited to review existing health apps they had used
to help inform others, and review the Challenge entries to determine a winner.
Five teams entered the Challenge with their unique diabetes apps designs:
• BWell Sugars System, a simple data entry and blood glucose trends tracker design.
• BetterBGs, a clever real-time insulin and food dose advisory system design.
• EasyDiabetes, a useful organiser design with a range of tools specifically for teens.
• Dap'n, a motivational game design for better adherence to medical recommendations.
• Gluco-Drive, a sensible alert design for monitoring blood glucose levels before driving.
Dap'n', the app design by Reina Yaidoo and her team, was chosen as winner of the
contest for its high ratings (5/5) and praise from peer reviewers.
As a key outcome of the project, the team produced a booklet, 'Patient-led
innovation: How to run, take part in and support a Health App Challenge', a combination
of project experiences and information as asked by participants during the Challenge.
It's available at http://goo.gl/i9irzo
As a result of the challenge, there will soon be a new online community area
for networking opportunities between people interested in patient-led health app
development. We will announce that when it's completed and ready to use.
The project team would really like to know your views on this patient-led approach
and on health app development in general, in a very brief, anonymous, 3-question survey.
Everyone is encouraged to complete it HERE -- all feedback is much appreciated.
The Health App Challenge project was run by Plymouth University, funded by the
Intellectual Property Office Fast Forward Competition 2014 and supported by Diabetes
UK, WLSinfo, Handi, and Britain's Nurses.
HEALTH APP CHALLENGE:
UPDATE
Turn the pag
GIVEAWAY