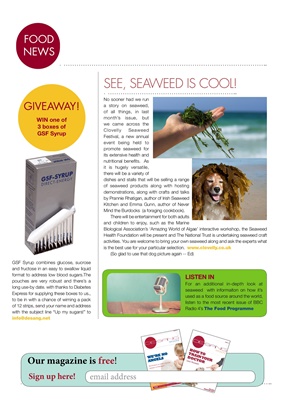 LIVINGLIVING
FOOD
NEWS
SEE, SEAWEED IS COOL!
No sooner had we run a
story on seaweed, of all
things, in last month's
issue, but we came
across the Clovelly
Seaweed Festival, a
new annual event is held
to promote seaweed for
its extensive health and
nutritional benefits. As
it is hugely versatile,
there will be a surprising
variety of dishes, and
stalls will be selling a
range of seaweed products along with hosting
demonstrations, along with crafts and talks by
Prannie Rhatigan, author of 'Irish Seaweed
Kitchen' and Emma Gunn, author of 'Never
Mind the Burdocks' (a foraging cookbook).
There will also be plenty of entertainment for
both adults and children to enjoy, such as
the Marine Biological Association's 'Amazing
World of Algae' interactive workshop, the
Seaweed Health Foundation will be present
and The National Trust is undertaking seaweed craft activities. You are welcome to bring
your own seaweed along and ask the experts what is the best use for your particular
selection. www.clovelly.co.uk
LISTEN IN
For an additional in-depth look at
seaweed with informaiton on how it's
used as a food source around the world,
listen to the most recent issue of BBC
Radio 4's The Food Programme
ISSUE 30
MAGAZINE
DESANG
PLUS • New Products • Groovy giveaways • News (for T1 and T2)
WE'RE NO
ANGELS
But business as usual is best for
diabetics at Christmas
MAKING
CARBS COUNT:
CHESTNUTS ROASTING
ON OPEN FIRES
Our magazine is free!
Sign up here! email address
GIVEAWAY!
WIN one of
3 boxes of
GSF Syrup
GSF Syrup combines glucose, sucrose
and fructose in an easy to swallow liquid
format to address low blood sugars .The
pouches are very robust and there's a
long use-by date. To be in with a chance
of wiming a pack of 12 strips, sinfo@desang.netname and address with the subject line
"Up my sugars!" to info@desang.net