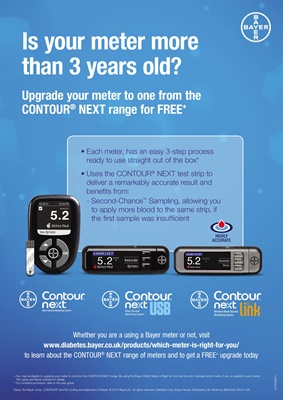 Is your meter more
than 3 years old?
Upgrade your meter to one from the
CONTOUR® NEXT range for FREE+
Whether you are a using a Bayer meter or not, visit
www.diabetes.bayer.co.uk/products/which-meter-is-right-for-you/
to learn about the CONTOUR® NEXT range of meters and to get a FREE+ upgrade today
0415DESv1
+ You may be eligible to upgrade your meter to one from the CONTOUR NEXT range. By using the Bayer Which Meter is Right for you tool the tool, indicates which meter, if any, is suitable to your needs.
T&C apply see Bayer website for details.
* For complete procedure, refer to the user guide
Bayer, the Bayer cross, CONTOUR® and No Coding are trademarks of Bayer. © 2015 Bayer plc. All rights reserved. Diabetes Care, Bayer House, Strawberry Hill, Newbury, Berkshire, RG14 1JA.
• Each meter, has an easy 3-step process
ready to use straight out of the box*
• Uses the CONTOUR® NEXT test strip to
deliver a remarkably accurate result and
beneits from:
- Second-Chance™ Sampling, allowing you
to apply more blood to the same strip, if
the irst sample was insuficient
Blood Glucose
Monitoring System
ACCURATE
HIGHLY