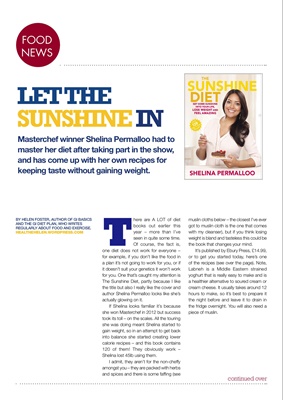 LIVINGLIVINGFOOD
NEWS
There are A LOT of diet
books out earlier this
year - more than I've
seen in quite some time.
Of course, the fact is,
one diet does not work for everyone -
for example, if you don't like the food in
a plan it's not going to work for you, or if
it doesn't suit your genetics it won't work
for you. One that's caught my attention is
The Sunshine Diet, partly because I like
the title but also I really like the cover and
author Shelina Permalloo looks like she's
actually glowing on it.
If Shelina looks familiar it's because
she won Masterchef in 2012 but success
took its toll - on the scales. All the touring
she was doing meant Shelina started to
gain weight, so in an attempt to get back
into balance she started creating lower
calorie recipes - and this book contains
120 of them! They obviously work -
Shelina lost 45lb using them.
I admit, they aren't for the non-cheffy
amongst you - they are packed with herbs
and spices and there is some faffing (see
Masterchef winner Shelina Permalloo had to
master her diet after taking part in the show,
and has come up with her own recipes for
keeping taste without gaining weight.
LET THE
SUNSHINE IN
muslin cloths below - the closest I've ever
got to muslin cloth is the one that comes
with my cleanser), but if you think losing
weight is bland and tasteless this could be
the book that changes your mind.
It's published by Ebury Press, £14.99,
or to get you started today, here's one
of the recipes (see over the page). Note,
Labneh is a Middle Eastern strained
yoghurt that is really easy to make and is
a healthier alternative to soured cream or
cream cheese. It usually takes around 12
hours to make, so it's best to prepare it
the night before and leave it to drain in
the fridge overnight. You will also need a
piece of muslin.
BY HELEN FOSTER, AUTHOR OF GI BASICS
AND THE GI DIET PLAN, WHO WRITES
REGULARLY ABOUT FOOD AND EXERCISE.
continued over