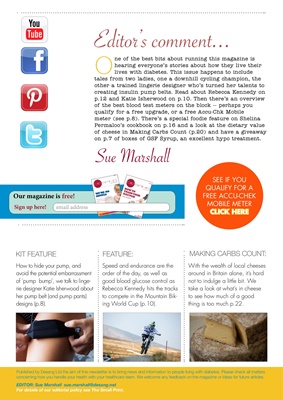 CONTENTS
Published by Desang Ltd the aim of this newsletter is to bring news and information to people living with diabetes. Please check all matters
concerning how you handle your health with your healthcare team. We welcome any feedback on the magazine or ideas for future articles.
EDITOR: Sue Marshall sue.marshall@desang.netshall" target="_blank" title="Visit sue.marshall">sue.marshall@desang.net
For details of our editorial policy see The Small Print.
Speed and endurance are the
order of the day, as well as
good blood glucose control as
Rebecca Kennedy hits the tracks
to compete in the Mountain Biking World
Cup (p.10).
Sue Marshall
KIT FEATURE
How to hide your pump, and
avoid the potential embarrassment
of 'pump bump', we talk to lingerie designer Katie Isherwood
about
her pump belt (and pump pants)
designs (p.8).
one of the best bits about running this magazine is
hearing everyone's stories about how they live their
lives with diabetes. This issue happens to include
tales from two ladies, one a downhill cycling champion, the
other a trained lingerie designer who's turned her talents to
creatin insulin pump belts. Read about Rebecca Kennedy on
p.12 and Katie Isherwood on p.10. I hope you enjoy reading
about them too. Then there's an overview of the best blood
test meters on the block on p.8 plus the usual News, Food
News and a special foodie feature on Shelina Permaloo's
cookbook on p. 16 and a look at the dietary value of cheese
in Making Carbs Count on p. 20.
Editor's comment...
ISSUE 30
MAGAZINE
DESANG
PLUS • New Products • Groovy giveaways • News (for T1 and T2)
WE'RE NO
ANGELS
But business as usual is best for
diabetics at Christmas
MAKING
CARBS COUNT:
CHESTNUTS ROASTING
ON OPEN FIRES
Our magazine is free!
Sign up here! email address FEATURE:
With the wealth of local cheeses
around in Britain alone, it's hard
not to indulge a little bit. We
take a look at what's in cheese
to see how much of a good
thing is too much.p.22.
MAKING CARBS COUNT: