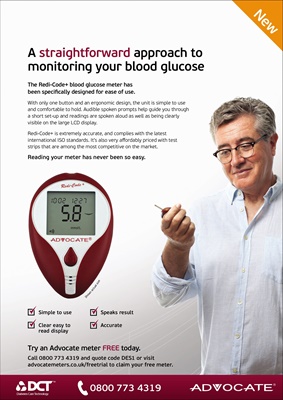 A straightforward approach to
monitoring your blood glucose
New
The Redi-Code+ blood glucose meter has
been specifically designed for ease of use.
With only one button and an ergonomic design, the unit is simple to use
and comfortable to hold. Audible spoken prompts help guide you through
a short set-up and readings are spoken aloud as well as being clearly
visible on the large LCD display.
Redi-Code+ is extremely accurate, and complies with the latest
international ISO standards. It's also very affordably priced with test
strips that are among the most competitive on the market.
Reading your meter has never been so easy.
Try an Advocate meter FREE today.
Call 0800 773 4319 and quote code DES1 or visit
advocatemeters.co.uk/freetrial to claim your free meter.
Simple to use Speaks result
Clear easy to
read display
Accurate
0800 773 4319
Shown actual size