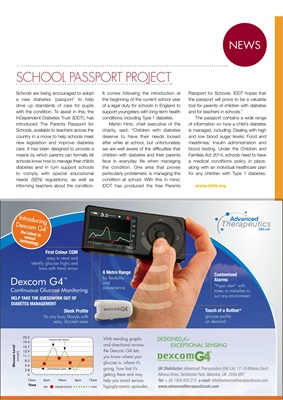 NEWS
SCHOOL PASSPORT PROJECT
Schools are being encouraged to adopt
a new diabetes 'passport' to help
drive up standards of care for pupils
with the condition. To assist in this, the
InDependent Diabetes Trust (IDDT), has
introduced The Parents Passport for
Schools, available to teachers across the
country in a move to help schools meet
new legislation and improve diabetes
care. It has been designed to provide a
means by which parents can formally let
schools know how to manage their child's
diabetes and in turn support schools
to comply with special educational
needs (SEN) regulations, as well as
informing teachers about the condition.
It comes following the introduction at
the beginning of the current school year
of a legal duty for schools in England to
support youngsters with long-term health
conditions, including Type 1 diabetes.
Martin Hirst, chief executive of the
charity, said: "Children with diabetes
deserve to have their needs looked
after while at school, but unfortunately
we are well aware of the difficulties that
children with diabetes and their parents
face in everyday life when managing
the condition. One area that proves
particularly problematic is managing the
condition at school. With this in mind,
IDDT has produced the free Parents
Passport for Schools. IDDT hopes that
the passport will prove to be a valuable
tool for parents of children with diabetes
and for teachers in schools."
The passport contains a wide range
of information on how a child's diabetes
is managed, including: Dealing with high
and low blood sugar levels; Food and
mealtimes; Insulin administration and
blood testing. Under the Children and
Families Act 2014, schools need to have
a medical conditions policy in place,
along with an individual healthcare plan
for any children with Type 1 diabetes.