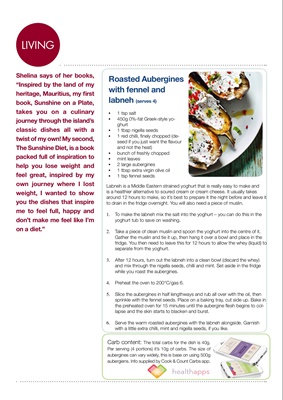 LIVINGLIVING
Carb content: The total carbs for the dish is 140g
and just under 2,000 cals. Per serving (4 portions) it's
35g of carbs and 450 calories. Info supplied by Cook
& Count Carbs app.
Labneh is a Middle Eastern strained yoghurt that is really easy to make and
is a healthier alternative to soured cream or cream cheese. It usually takes
around 12 hours to make, so it's best to prepare it the night before and leave it
to drain in the fridge overnight. You will also need a piece of muslin.
1. To make the labneh mix the salt into the yoghurt - you can do this in the
yoghurt tub to save on washing.
2. Take a piece of clean muslin and spoon the yoghurt into the centre of it.
Gather the muslin and tie it up, then hang it over a bowl and place in the
fridge. You then need to leave this for 12 hours to allow the whey (liquid) to
separate from the yoghurt.
3. After 12 hours, turn out the labneh into a clean bowl (discard the whey)
and mix through the nigella seeds, chilli and mint. Set aside in the fridge
while you roast the aubergines.
4. Preheat the oven to 200°C/gas 6.
5. Slice the aubergines in half lengthways and rub all over with the oil, then
sprinkle with the fennel seeds. Place on a baking tray, cut side up. Bake in
the preheated oven for 15 minutes until the aubergine flesh begins to collapse and the skin starts to blacken and burst.
6. Serve the warm roasted aubergines with the labneh alongside. Garnish
with a little extra chilli, mint and nigella seeds, if you like.
Roasted Aubergines
with fennel and
labneh (serves 4)
• 1 tsp salt
• 450g 0%-fat Greek-style yoghurt
• 1 tbsp nigella seeds
• 1 red chilli, finely chopped (deseed if you just want the flavour
and not the heat)
• bunch of freshly chopped
• mint leaves
• 2 large aubergines
• 1 tbsp extra virgin olive oil
• 1 tsp fennel seeds
Shelina says of her books,
"Inspired by the land of my
heritage, Mauritius, my first
book, Sunshine on a Plate,
takes you on a culinary
journey through the island's
classic dishes all with a
twist of my own! My second,
The Sunshine Diet, is a book
packed full of inspiration to
help you lose weight and
feel great, inspired by my
own journey where I lost
weight, I wanted to show
you the dishes that inspire
me to feel full, happy and
don't make me feel like I'm
on a diet."