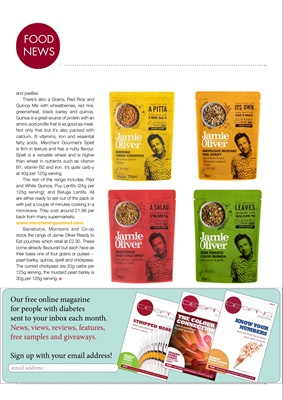 LIVINGLIVING
FOOD
NEWS
Our free online magazine
for people with diabetes
sent to your inbox each month.
News, views, reviews, features,
free samples and giveaways.
Sign up with your email address!
email address
and paellas.
There's also a Grains, Red Rice and
Quinoa Mix with wheatberries, red rice,
greenwheat, black barley and quinoa.
Quinoa is a great source of protein with an
amino acid profile that is as good as meat.
Not only that but it's also packed with
calcium, B vitamins, iron and essential
fatty acids. Merchant Gourmet's Spelt
is firm in texture and has a nutty flavour.
Spelt is a versatile wheat and is higher
than wheat in nutrients such as vitamin
B1, vitamin B2 and iron. it's quite carb-y
at 40g per 125g serving
The rest of the range includes: Red
and White Quinoa; Puy Lentils (24g per
125g serving); and Beluga Lentils. All
are either ready to eat out of the pack or
with just a couple of minutes cooking in a
microwave. They cost around £1.99 per
back from many supermarkets.
Sainsburys, Morrisons and Co-op
stock the range of Jamie Oliver Ready to
Eat pouches which retail at £2.30. These
come already flavoured but each have as
their basis one of four grains or pulses --
pearl barley, quinoa, spelt and chickpeas.
The curried chickpeas are 20g carbs per
125g serving, the mustard pearl barley is
30g per 125g serving. d