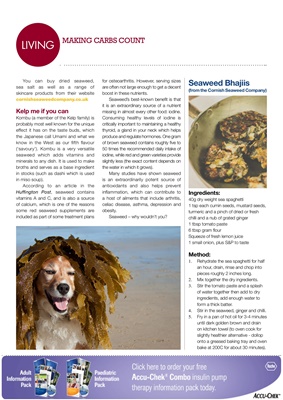 LIVINGLIVING
Seaweed Bhajiis
(from the Cornish Seaweed Company)
Ingredients:
40g dry weight sea spaghetti
1 tsp each cumin seeds, mustard seeds,
turmeric and a pinch of dried or fresh
chilli and a nub of grated ginger
1 tbsp tomato paste
6 tbsp gram flour
Squeeze of fresh lemon juice
1 small onion, plus S&P to taste
Method:
1. Rehydrate the sea spaghetti for half
an hour, drain, rinse and chop into
pieces roughly 2 inches long.
2. Mix together the dry ingredients.
3. Stir the tomato paste and a splash
of water together then add to dry
ingredients, add enough water to
form a thick batter.
4. Stir in the seaweed, ginger and chilli.
5. Fry in a pan of hot oil for 3-4 minutes
until dark golden brown and drain
on kitchen towel (to oven cook for
slightly healthier alternative - dollop
onto a greased baking tray and oven
bake at 200C for about 30 minutes).
MAKING CARBS COUNT
You can buy dried seaweed,
sea salt as well as a range of
skincare products from their website
Kelp me if you can
Kombu (a member of the Kelp family) is
probably most well known for the unique
effect it has on the taste buds, which
the Japanese call Umami and what we
know in the West as our fifth flavour
('savoury'). Kombu is a very versatile
seaweed which adds vitamins and
minerals to any dish. It is used to make
broths and serves as a base ingredient
in stocks (such as dashi which is used
in miso soup).
According to an article in the
Huffington Post, seaweed contains
vitamins A and C, and is also a source
of calcium, which is one of the reasons
some red seaweed supplements are
included as part of some treatment plans
for osteoarthritis. However, serving sizes
are often not large enough to get a decent
boost in these nutrients.
Seaweed's best-known benefit is that
it is an extraordinary source of a nutrient
missing in almost every other food: iodine.
Consuming healthy levels of iodine is
critically important to maintaining a healthy
thyroid, a gland in your neck which helps
produce and regulate hormones. One gram
of brown seaweed contains roughly five to
50 times the recommended daily intake of
iodine, while red and green varieties provide
slightly less (the exact content depends on
the water in which it grows).
Many studies have shown seaweed
is an extraordinarily potent source of
antioxidants and also helps prevent
inflammation, which can contribute to
a host of ailments that include arthritis,
celiac disease, asthma, depression and
obesity.
Seaweed - why wouldn't you?