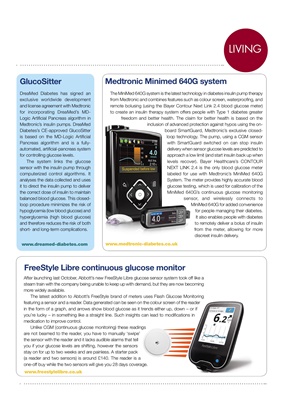 DreaMed Diabetes has signed an
exclusive worldwide development
and license agreement with Medtronic
for incorporating DreaMed's MDLogic Artificial
Pancreas algorithm in
Medtronic's insulin pumps. DreaMed
Diabetes's CE-approved GlucoSitter
is based on the MD-Logic Artificial
Pancreas algorithm and is a fullyautomated, artificial-pancreas
system
for controlling glucose levels.
The system links the glucose
sensor with the insulin pump through
computerized control algorithms. It
analyses the data collected and uses
it to direct the insulin pump to deliver
the correct dose of insulin to maintain
balanced blood glucose. This closedloop procedure
minimizes the risk of
hypoglycemia (low blood glucose) and
hyperglycemia (high blood glucose)
and therefore reduces the risk of both
short- and long-term complications.
Medtronic Minimed 640G system
FreeStyle Libre continuous glucose monitor
GlucoSitter
After launching last October, Abbott's new FreeStyle Libre glucose sensor system took off like a
steam train with the company being unable to keep up with demand, but they are now becoming
more widely available.
The latest addition to Abbott's FreeStyle brand of meters uses Flash Glucose Monitoring
featuring a sensor and a reader. Data generated can be seen on the colour screen of the reader
in the form of a graph, and arrows show blood glucose as it trends either up, down - or if
you're lucky - in something like a straight line. Such insights can lead to modifications in
medication to improve control.
Unlike CGM (continuous glucose monitoring) these readings
are not beamed to the reader, you have to manually 'swipe'
the sensor with the reader and it lacks audible alarms that tell
you if your glucose levels are shifting, however the sensors
stay on for up to two weeks and are painless. A starter pack
(a reader and two sensors) is around £140. The reader is a
one-off buy while the two sensors will give you 28 days coverage.
The MiniMed 640G system is the latest technology in diabetes insulin pump therapy
from Medtronic and combines features such as colour screen, waterproofing, and
remote bolusing (using the Bayer Contour Next Link 2.4 blood glucose meter)
to create an insulin therapy system offers people with Type 1 diabetes greater
freedom and better health. The claim for better health is based on the
inclusion of advanced protection against hypos using the onboard
SmartGuard, Medtronic's exclusive closedloop technology.
The pump, using a CGM sensor
with SmartGuard switched on can stop insulin
delivery when sensor glucose levels are predicted to
approach a low limit (and start insulin back up when
levels recover). Bayer Healthcare's CONTOUR
NEXT LINK 2.4 is the only blood glucose meter
labeled for use with Medtronic's MiniMed 640G
System. The meter provides highly accurate blood
glucose testing, which is used for calibration of the
MiniMed 640G's continuous glucose monitoring
sensor, and wirelessly connects to
MiniMed 640G for added convenience
for people managing their diabetes.
It also enables people with diabetes
to remotely deliver a bolus of insulin
from the meter, allowing for more
discreet insulin delivery.
LIVING