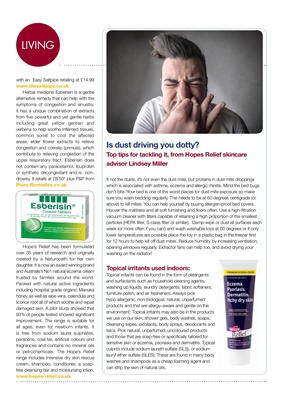 LIVINGLIVING
with an Easy Saltpipe retailing at £14.99
Herbal medicine Esberisin is a gentle
alternative remedy that can help with the
symptoms of congestion and sinusitis.
It has a unique combination of extracts
from five powerful and yet gentle herbs
including great yellow gentian and
verbena to help soothe inflamed tissues,
common sorrel to cool the affected
areas, elder flower extracts to relieve
congestion and cowslip (primula), which
contribute to relieving congestion of the
upper respiratory tract. Esberisin does
not contain any paracetamol, ibuprofen
or synthetic decongestant and is nondrowsy.
It retails at £8.50* plus P&P from
Hope's Relief has been formulated
over 35 years of research and originally
created by a Naturopath for her own
daughter. It is now an award winning brand
and Australia's No1 natural eczema cream
trusted by families around the world.
Packed with natural active ingredients
including hospital grade organic Manuka
honey as well as aloe vera, calendula and
licorice root all of which soothe and repair
damaged skin. A pilot study showed that
93% of people tested showed significant
improvement. The range is suitable for
all ages, even for newborn infants. It
is free from sodium laurel sulphates,
parabens, coal tar, artificial colours and
fragrances and contains no mineral oils
or petrochemicals. The Hope's Relief
range includes Intensive dry skin rescue
cream, shampoo, conditioner, a soapfree
cleansing bar and moisturising lotion.
Is dust driving you dotty?
Top tips for tackling it, from Hopes Relief skincare
advisor Lindsey Miller
It not the dusts, it's not even the dust mite, but proteins in dust mite droppings
which is associated with asthma, eczema and allergic rhinitis. Mind the bed bugs
don't bite !Your bed is one of the worst places for dust mite exposure so make
sure you wash bedding regularly. This needs to be at 60 degrees centigrade (or
above) to kill mites. You can help yourself by buying allergen-proof bed covers.
Hoover the mattress and all soft furnishing and floors often. Use a high-filtration
vacuum cleaner with filters capable of retaining a high proportion of the smallest
particles (HEPA filter, S-class filter or similar). Damp-wipe or dust all surfaces each
week (or more often if you can!) and wash washable toys at 60 degrees or if only
lower temperatures are possible place the toy in a plastic bag in the freezer first
for 12 hours to help kill off dust mites. Reduce humidity by increasing ventilation,
opening windows regularly. Extractor fans can help too, and avoid drying your
washing on the radiator!
Topical irritants used indoors:
Topical irritants can be found in the form of detergents
and surfactants such as household cleaning agents,
washing up liquids, laundry detergents, fabric softeners,
furniture polish, and air fresheners. Always pick
hypo-allergenic, non-biological, natural, unperfumed
products and that are allergy-aware and gentle on the
environment. Topical irritants may also be in the products
we use on our skin; shower gels, body washes, soaps,
cleansing wipes, exfoliants, body sprays, deodorants and
talcs. Pick natural, unperfumed, uncoloured products
and those that are soap-free or specifically tailored for
sensitive skin or eczema, psoriasis and dermatitis. Typical
culprits include sodium laureth sulfate (SLS), or sodium
lauryl ether sulfate (SLES). These are found in many body
washes and shampoos as a cheap foaming agent and
can strip the skin of natural oils.