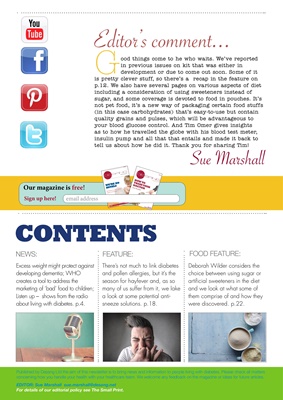 CONTENTS
Published by Desang Ltd the aim of this newsletter is to bring news and information to people living with diabetes. Please check all matters
concerning how you handle your health with your healthcare team. We welcome any feedback on the magazine or ideas for future articles.
EDITOR: Sue Marshall sue.marshall@desang.netshall" target="_blank" title="Visit sue.marshall">sue.marshall@desang.net
For details of our editorial policy see The Small Print.
There's not much to link diabetes
and pollen allergies, but it's the
season for hayfever and as so
many of us suffer from it, we lake
a look at some potential antisneeze solutions. p.18.
Sue Marshall
NEWS:
Excess weight might protect against
developing dementia; WHO creates a tool to address the marketing
of 'bad' food to children; Listen
up - shows from the radio about
living with diabetes. p.4. Good things come to he who waits. We've reported
in previous issues on kit that was either in
development or due to come out soon. Some of it
is pretty clever stuff, so there's a recap in the feature on
p. We also have several pages on various aspects of diet
including a consideration of using sweeteners instead of
sugar, and some coverage is devoted to food in pouches. It's
not pet food, it's a new way of packaging certain food stuffs
(in this case carbohydrates) that's easy-to-use but contain
quality grains and pulses, which will be advantageous to
your blood glucose control. And Tim Omer gives insights
as to how he travelled the globe with his blood test meter,
insulin pump and all that that entails and made it back to
tell us about how he did it. Thank you for sharing Tim!
Editor's comment...
ISSUE 30
MAGAZINE
DESANG
PLUS • New Products • Groovy giveaways • News (for T1 and T2)
WE'RE NO
ANGELS
But business as usual is best for
diabetics at Christmas
MAKING
CARBS COUNT:
CHESTNUTS ROASTING
ON OPEN FIRES
Our magazine is free!
Sign up here! email address FEATURE:
Deborah Wilder considers the
choice between using sugar or
artificial sweeteners in the diet
and we look at what some of
them comprise of and how they
were discovered. p.22
FOOD FEATURE: