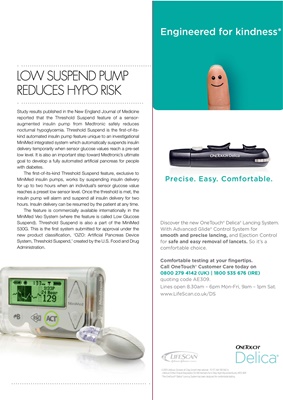 Engineered for kindness*
NEWS
loW SuSPEND PumP
REDuCES hYPo RISk
study results published in the new england Journal of medicine
reported that the threshold suspend feature of a sensor-
augmented insulin pump from medtronic safely reduces
nocturnal hypoglycemia. Threshold Suspend is the first-of-its-
kind automated insulin pump feature unique to an investigational
minimed integrated system which automatically suspends insulin
delivery temporarily when sensor glucose values reach a pre-set
low level. it is also an important step toward medtronic's ultimate
goal to develop a fully automated artificial pancreas for people
with diabetes.
The first-of-its-kind Threshold Suspend feature, exclusive to
minimed insulin pumps, works by suspending insulin delivery Precise. Easy. Comfortable.
for up to two hours when an individual's sensor glucose value
reaches a preset low sensor level. once the threshold is met, the
insulin pump will alarm and suspend all insulin delivery for two
hours. insulin delivery can be resumed by the patient at any time.
the feature is commercially available internationally in the
minimed Veo system (where the feature is called Low glucose
suspend). threshold suspend is also a part of the minimed 530g, Discover the new OneTouch® Delica® Lancing System.
which is not commercially available in the u.s. at this time, and With Advanced Glide® Control System for
is currently under review at the FDa. the minimed 530g system smooth and precise lancing, and Ejection Control
is the first system submitted for approval under the new product for safe and easy removal of lancets. So it's a
classification, 'OZO: Artificial Pancreas Device System, Threshold comfortable choice.
suspend,' created by the u.s. Food and Drug administration.
Comfortable testing at your fingertips.
Call OneTouch® Customer Care today on
0800 279 4142 (UK) | 1800 535 676 (IRE)
quoting code AE309.
Lines open 8.30am – 6pm Mon-Fri, 9am – 1pm Sat.
www.LifeScan.co.uk/DS
©2013 LifeScan, Division of Cilag GmbH International - 13-177. AW 100 942 A.
LifeScan Ortho-Clinical Diagnostics 50-100 Holmers Farm Way High Wycombe Bucks, HP12 4DP.
*The OneTouch® Delica® Lancing System has been designed for comfortable testing.