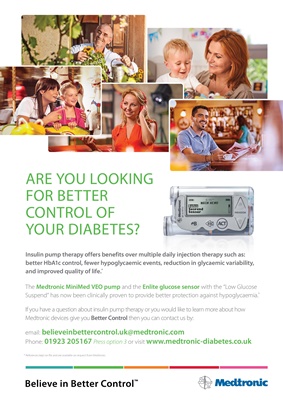 ARE YOU LOOKING
FOR BETTER
CONTROL OF
YOUR DIABETES?
Insulin pump therapy offers benefits over multiple daily injection therapy such as:
better HbA1c control, fewer hypoglycaemic events, reduction in glycaemic variability,
and improved quality of life.*
The Medtronic MiniMed VEO pump and the Enlite glucose sensor with the "Low Glucose
Suspend" has now been clinically proven to provide better protection against hypoglycaemia.*
If you have a question about insulin pump therapy or you would like to learn more about how
Medtronic devices give you Better Control then you can contact us by:
email: believeinbettercontrol.uk@medtronic.com
Phone: 01923 205167 Press option 3 or visit www.medtronic-diabetes.co.uk
* References kept on file and are available on request from Medtronic.