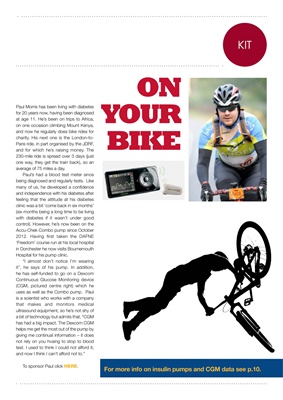 KIT
on
your
Paul morris has been living with diabetes
for 20 years now, having been diagnosed
at age 11. He's been on trips to africa,
on one occasion climbing mount kenya,
bikE
and now he regularly does bike rides for
charity. His next one is the London-to-
Paris ride, in part organised by the JDrf,
and for which he's raising money. the
230-mile ride is spread over 3 days (just
one way, they get the train back), so an
average of 75 miles a day.
Paul's had a blood test meter since
being diagnosed and regularly tests. Like
many of us, he developed a confidence
and independence with his diabetes after
feeling that the attitude at his diabetes
clinic was a bit 'come back in six months'
(six months being a long time to be living
with diabetes if it wasn't under good
control). However, he's now been on the
accu-chek combo pump since october
2012. Having first taken the Dafne
'freedom' course run at his local hospital
in Dorchester he now visits bournemouth
Hospital for his pump clinic.
"i almost don't notice i'm wearing
it", he says of his pump. in addition,
he has self-funded to go on a Dexcom
continuous glucose monitoring device
(cgm, pictured centre right) which he
uses as well as the combo pump. Paul
is a scientist who works with a company
that makes and monitors medical
ultrasound equipment, so he's not shy of
a bit of technology but admits that, "cgm
has had a big impact. the Dexcom cgm
helps me get the most out of the pump by
giving me continual information – it does
not rely on you hvaing to stop to blood
test. i used to think i could not afford it,
and now i think i can't afford not to."
to sponsor Paul click HERE.
For more info on insulin pumps and CGM data see p.10.