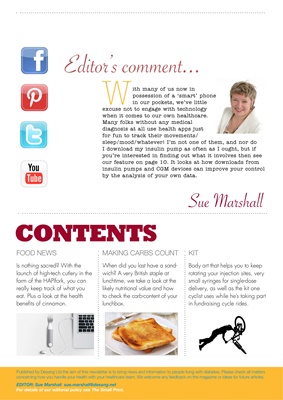 Editor's comment...
W ith many of us now in
possession of a 'smart' phone
in our pockets, we've little
excuse not to engage with technology
when it comes to our own healthcare.
Many folks without any medical
diagnosis at all use health apps just
for fun to track their movements/
sleep/mood/whatever! I'm not one of them, and nor do
I download my insulin pump as often as I ought, but if
you're interested in finding out what it involves then see
our feature on page 10. It looks at how downloads from
insulin pumps and CGM devices can improve your control
by the analysis of your own data.
Sue Marshall
contEnts
fooD neWs making carbs count kit
Is nothing sacred? With the When did you last have a sand- Body art that helps you to keep
launch of high-tech cutlery in the wich? A very British staple at rotating your injection sites, very
form of the HAPIfork, you can lunchtime, we take a look at the small syringes for single-dose
really keep track of what you likely nutritional value and how delivery, as well as the kit one
eat. Plus a look at the health to check the carb-content of your cyclist uses while he's taking part
benefits of cinnamon. lunchbox. in fundraising cycle rides.
Published by Desang Ltd the aim of this newsletter is to bring news and information to people living with diabetes. Please check all matters
concerning how you handle your health with your healthcare team. We welcome any feedback on the magazine or ideas for future articles.
Editor: Sue Marshall sue.marshall@desang.net
For details of our editorial policy see the Small Print.