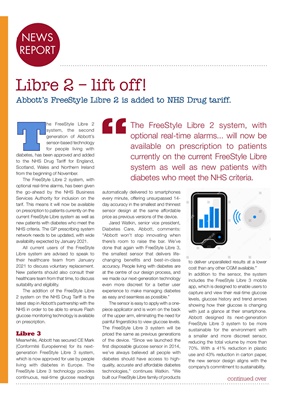 NEWS
NEWS
REPORT
Abbott's FreeStyle Libre 2 is added to NHS Drug tariff.
Libre 2 - lift off!
A
rtificial The FreeStyle
Libre 2 system, the
second generation of
Abbott's sensor-based
technology for people
living with diabetes, has been approved
and added to the NHS Drug Tariff for
England, Scotland, Wales and Northern
Ireland from 1st November.
The FreeStyle Libre 2 system, with
optional real-time alarms, has been given
the go-ahead by the NHS Business
Services Authority for inclusion on the
tarif. This means it will now be available
on prescription to patients currently on the
current FreeStyle Libre system as well as
new patients with diabetes who meet the
NHS criteria. The GP prescribing system
network needs to be updated, with wide
availability expected by January 2021.
All current users of the FreeStyle
Libre system are advised to speak to
their healthcare team from January
2021 to discuss voluntary replacement.
New patients should also consult their
healthcare team from that time, to discuss
suitability and eligibility.
The addition of the FreeStyle Libre
2 system on the NHS Drug Tariff is the
latest step in Abbott's partnership with the
NHS in order to be able to ensure Flash
glucose monitoring technology is available
on prescription.
Libre 3
Meanwhile, Abbott has secured CE Mark
(Conformité Européenne) for its nextgeneration FreeStyle
Libre 3 system,
which is now approved for use by people
living with diabetes in Europe. The
FreeStyle Libre 3 technology provides
continuous, real-time glucose readings
automatically delivered to smartphones
every minute, offering unsurpassed 14-
day accuracy in the smallest and thinnest
sensor design at the same affordable
price as previous versions of the device.
Jared Watkin, senior vice president,
Diabetes Care, Abbott, comments:
"Abbott won't stop innovating when
there's room to raise the bar. We've
done that again with FreeStyle Libre 3,
the smallest sensor that delivers lifechanging benefits and best-in-class
accuracy. People living with diabetes are
at the centre of our design process, and
we made our next-generation technology
even more discreet for a better user
experience to make managing diabetes
as easy and seamless as possible."
The sensor is easy to apply with a onepiece applicator and is worn
on the back
of the upper arm, eliminating the need for
painful fingersticks to view glucose levels.
The FreeStyle Libre 3 system will be
priced the same as previous generations
of the device. "Since we launched the
first disposable glucose sensor in 2014,
we've always believed all people with
diabetes should have access to highquality,
accurate and affordable diabetes
technologies," continues Watkin. "We
built our FreeStyle Libre family of products
to deliver unparalleled results at a lower
cost than any other CGM available."
In addition to the sensor, the system
includes the FreeStyle Libre 3 mobile
app, which is designed to enable users to
capture and view their real-time glucose
levels, glucose history and trend arrows
showing how their glucose is changing
with just a glance at their smartphone.
Abbott designed its next-generation
FreeStyle Libre 3 system to be more
sustainable for the environment with
a smaller and more discreet sensor,
reducing the total volume by more than
70%. With a 41% reduction in plastic
use and 43% reduction in carton paper,
the new sensor design aligns with the
company's commitment to sustainability.
Abbott is launching the FreeStyle Libre 3
The FreeStyle Libre 2 system, with
optional real-time alarms... will now be
available on prescription to patients
currently on the current FreeStyle Libre
system as well as new patients with
diabetes who meet the NHS criteria.
"
continued over