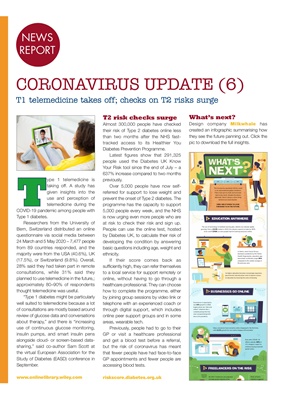 KIT
Halloween monsters hot dog recipes from Ye
Olde Oak, a brand of hot dog sausages that
come in tins which are made in the UK and
have been since the '40s.
Witchy Fingers
• 3 Ye Olde Oak Classic hot dogs
• 3 hot dog buns
• Ketchup
1. Empty hot dogs, including brine, into
saucepan, heat gently for 5 minutes.
2. Strain the dogs, use a knife to cut a fingernail
and knuckles into each.
3. Add the hot dogs to buns and add ketchup
at base of for a real trick or treat.
Mummy Dogs
• 1 tin of Ye Olde Oak Classic hot dogs
• Pack ready puff pastry
• Tomato Sauce
• 1 medium egg
1. Empty hot dogs, including brine, into
saucepan and heat gently for 5 minutes and
drain on kitchen paper.
2. Roll out the pastry, slice into thin strips, wrap
it around each hot dog, leaving some gaps to
create a 'bandaged' look.
4. Googly eyes are optional and tomato sauce
is recommended for the gruesome effect!
A LITTLE BIT SAUCY
Condiments brand Dr Will's has launched
a range of all-natural no added sugar
and vegan dressings. A healthier take on
dressings, the range offers great quality
ingredients with no added sugar. The
gluten free range consists of a Caesar
and Miso Tahini dressing, and Sriracha
hot sauce - RRP £3. The sauces are the
prefect addition to salad, meats (or the
veggie or vegan alternatives), remaining
packed full of flavour, all three condiments
have a fermented element which means
they are good for gut health. The Caesar
is made with apple cider vinegar and
vegan parmesan with black pepper and
oregano. The Miso Tahini sauce uses
fermented miso and has a deep sesame
flavour combined with saltiness from the
gluten-free soy. The Sriracha has heat
from fermented habanero chillies with red
peppers, garlic and a sweet kick from
dates. The dressings join a family of noadded sugar ketchups and all-natural
mayonnaises available in Tesco and from
Ocado. www.dr-wills.com
SPOOKEY BUT
DELIGHTFUL
FOOD
NEWS
FOR DISHING 0UT
Nim's Fruit Crisps has launched new
'share bags' of its one-ingredient crisps.
They come in three varieties: Apple;
Beetroot & Parsnip; Pineapple & Beetroot.
Priced at £1.95, each Nim's Share
Bag contains 70g of delicious, fruity
goodness, equating to three portions,
each portion contains fruit (or veg) which
has been air-dried - not fried - and make
up 1 of your 5 day. "You might feel you are
already sharing more than enough with
your family in this time of Covid-19, but
these are high in immunity-boosting fruit
and fibre," says Nimisha Raja, founder of
Nim's Fruit Crisps.