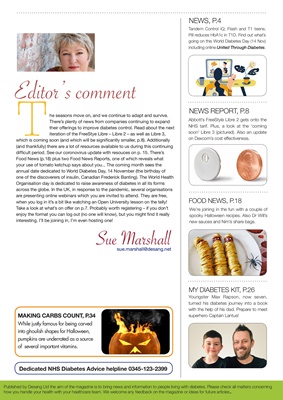 Published by Desang Ltd the aim of the magazine is to bring news and information to people living with diabetes. Please check all matters concerning
how you handle your health with your healthcare team. We welcome any feedback on the magazine or ideas for future articles..
Sue Marshall
This issu jab.
Editor's comment
Ten thingBy Nick Cahm.
METER FEATURE, P.18
NEWS, P.4
News onetes.
Pasta mapaign.
FOOD NEWS, P.12
MY DIABETES KIT, P.22
A little look at the plethora of dairy
milk alternatives now available, from
soya to coconut, from almonds to
peas, and from oats to rice.
Violinisdown.
MAKING CARBS COUNT, P.34
Dedicated NHS Diabetes Advice helpline 0345-123-2399