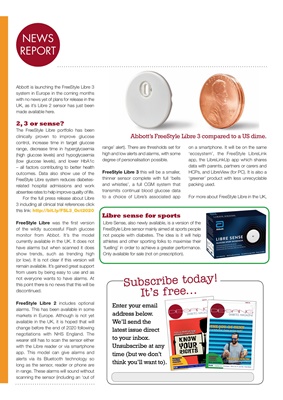 NEWS
NEWS
REPORT
ISSUE 88
DIABETES MAGAZINE
DESANG
MAKING
CARBS
COUNT:
SWEET POTATO
PLUS • Diabetes kit • Giveaways • News (for T1 and T2) • Food News
Access to blood test strips
and meters: your choice
PLUS:
Screen Time
(part 2): meters
Subscribe today!
Enter your email
address below.
We'll send the
latest issue direct
to your inbox.
Unsubscribe at any
time (but we don't
think you'll want to).
It's free...
system in Europe in the coming months
with no news yet of plans for release in the
UK, as it's Libre 2 sensor has just been
made available here.
2, 3 or sense?
The FreeStyle Libre portfolio has been
clinically proven to improve glucose
control, increase time in target glucose
range, decrease time in hyperglycaemia
(high glucose levels) and hypoglycaemia
(low glucose levels), and lower HbA1c
- all factors contributing to better health
outcomes. Data also show use of the
FreeStyle Libre system reduces diabetesrelated
hospital admissions and work
absentee rates to help improve quality of life.
For the full press release about Libre
3 including all clinical trial references click
this link: http://bit.ly/fsl3_oct2020
FreeStyle Libre was the first version
of the wildly successful Flash glucose
monitor from Abbot. It's the model
currently available in the UK. It does not
have alarms but when scanned it does
show trends, such as trending high
(or low). It is not clear if this version will
remain available. It's gained great support
from users by being easy to use and as
not everyone wants to have alarms. At
this point there is no news that this will be
discontinued.
FreeStyle Libre 2 includes optional
alarms. This has been available in some
markets in Europe. Although is not yet
available in the UK, it is hoped that will
change before the end of 2020 following
negotiations with NHS England. The
wearer still has to scan the sensor either
with the Libre reader or via smartphone
app. This model can give alarms and
alerts via its Bluetooth technology so
long as the sensor, reader or phone are
in range. These alarms will sound without
scanning the sensor (including an 'out of
range' alert). There are thresholds set for
high and low alerts and alarms, with some
degree of personalisation possible.
FreeStyle Libre 3 this will be a smaller,
thinner sensor complete with full 'bells
and whistles', a full CGM system that
transmits continual blood glucose data
to a choice of Libre's associated app
on a smartphone. It will be on the same
Libre Sense, also newly available, is a version of the
FreeStyle Libre sensor mainly aimed at sports people
not people with diabetes. The idea is it will help
athletes and other sporting folks to maximise their
'fuelling' in order to achieve a greater performance.
Only available for sale (not on prescription).
Libre sense for sports
'ecosystem', the FreeStyle LibreLink
app, the LibreLinkUp app which shares
data with parents, partners or carers and
HCPs, and LibreView (for PC). It is also a
'greener' product with less unrecyclable
packing used.
For more about FreeStyle Libre in the UK,
Abbott's FreeStyle Libre 3 compared to a US dime.