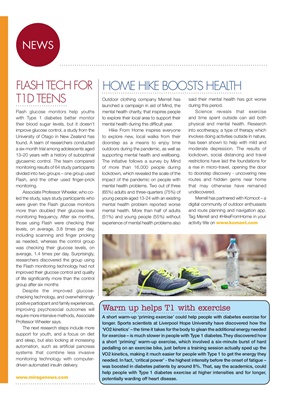 NEWS
FLASH TECH FOR
T1D TEENS
Flash glucose monitors help youths
with Type 1 diabetes better monitor
their blood sugar levels, but it doesn't
improve glucose control, a study from the
University of Otago in New Zealand has
found. A team of researchers conducted
a six-month trial among adolescents aged
13-20 years with a history of suboptimal
glycaemic control. The team compared
monitoring results of 64 study participants
divided into two groups - one group used
Flash, and the other used finger-prick
monitoring.
Associate Professor Wheeler, who coled the study,
says study participants who
were given the Flash glucose monitors
more than doubled their glucose level
monitoring frequency. After six months,
those using Flash were checking their
levels, on average, 3.8 times per day,
including scanning and finger pricking
as needed, whereas the control group
was checking their glucose levels, on
average, 1.4 times per day. Surprisingly,
researchers discovered the group using
the Flash monitoring technology had not
improved their glucose control and quality
of life significantly more than the control
group after six months
Despite the improved glucosechecking technology,
and overwhelmingly
positive participant and family experiences,
improving psychosocial outcomes will
require more intensive methods, Associate
Professor Wheeler says.
The next research steps include more
support for youth, and a focus on diet
and sleep, but also looking at increasing
automation, such as artificial pancreas
systems that combine less invasive
monitoring technology with computerdriven automated insulin delivery.
Outdoor clothing company Merrell has
launched a campaign in aid of Mind, the
mental health charity, that inspires people
to explore their local area to support their
mental health during this difficult year.
Hike From Home inspires everyone
to explore new, local walks from their
doorstep as a means to enjoy time
outdoors during the pandemic, as well as
supporting mental health and wellbeing.
The initiative follows a survey by Mind
of more than 16,000 people during
lockdown, which revealed the scale of the
impact of the pandemic on people with
mental health problems. Two out of three
(65%) adults and three-quarters (75%) of
young people aged 13-24 with an existing
mental health problem reported worse
mental health. More than half of adults
(51%) and young people (55%) without
experience of mental health problems also
said their mental health has got worse
during this period.
Science reveals that exercise
and time spent outside can aid both
physical and mental health. Research
into ecotherapy, a type of therapy which
involves doing activities outside in nature,
has been shown to help with mild and
moderate depression. The results of
lockdown, social distancing and travel
restrictions have laid the foundations for
a rise in micro-travel, opening the door
to doorstep discovery - uncovering new
routes and hidden gems near home
that may otherwise have remained
undiscovered.
Merrell has partnered with Komoot - a
digital community of outdoor enthusiasts
and route planning and navigation app.
Tag Merrell and #HikeFromHome in your
activity title on www.komoot.com
HOME HIKE BOOSTS HEALTH
A short warm-up 'priming exercise' could help people with diabetes exercise for
longer. Sports scientists at Liverpool Hope University have discovered how the
'VO2 kinetics' - the time it takes for the body to glean the additional energy needed
for exercise - is much slower in people with Type 1 diabetes.They discovered how
a short 'priming' warm-up exercise, which involved a six-minute burst of hard
pedalling on an exercise bike, just before a training session actually sped up the
VO2 kinetics, making it much easier for people with Type 1 to get the energy they
needed. In fact, 'critical power' - the highest intensity before the onset of fatigue -
was boosted in diabetes patients by around 8%. That, say the academics, could
help people with Type 1 diabetes exercise at higher intensities and for longer,
potentially warding off heart disease.
Warm up helps T1 with exercise