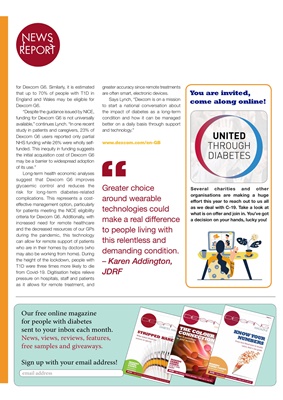 KIT
for Dexcom G6. Similarly, it is estimated
that up to 70% of people with T1D in
England and Wales may be eligible for
Dexcom G6.
"Despite the guidance issued by NICE,
funding for Dexcom G6 is not universally
available," continues Lynch. "In one recent
study in patients and caregivers, 23% of
Dexcom G6 users reported only partial
NHS funding while 26% were wholly selffunded. This inequity in funding suggests
the initial acquisition cost of Dexcom G6
may be a barrier to widespread adoption
of its use."
Long-term health economic analyses
suggest that Dexcom G6 improves
glycaemic control and reduces the
risk for long-term diabetes-related
complications. This represents a costeffective
management option, particularly
for patients meeting the NICE eligibility
criteria for Dexcom G6. Additionally, with
increased need for remote healthcare
and the decreased resources of our GPs
during the pandemic, this technology
can allow for remote support of patients
by doctors who may well be working
from their own homes. During the height
of the lockdown, people with T1D were
three times more likely to die from Covid19.
Digitisation helps relieve pressure on
hospitals, staff and patients as it allows for
Our free online magazine
for people with diabetes
sent to your inbox each month.
News, views, reviews, features,
free samples and giveaways.
Sign up with your email address!
email address
remote treatment, and greater accuracy
since remote treatments are often smart,
electronic devices.
Says Lynch, "Dexcom is on a mission
to start a national conversation about
the impact of diabetes as a long-term
condition and how it can be managed
better on a daily basis through support
and technology."
"Greater choice
around wearable
technologies could
make a real difference
to people living with
this relentless and
demanding condition.
- Karen Addington,
JDRF
You are invited,
come along online!
Several charities and other
organisations are making a huge
effort this year to reach out to us all
as we deal with C-19. Take a look at
what is on offer and join in. You've got
a decision on your hands, lucky you!